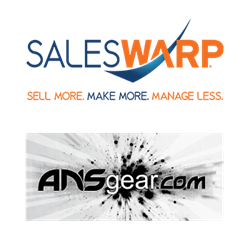 We needed an enterprise solution to centralize all of our operations from order and inventory management down to shipping and complete warehouse management
Baltimore, MD (PRWEB) February 14, 2014
SALESWARP, a provider of eCommerce management software for omni-channel retailers, announced ANS Xtreme Performance has selected SalesWarp ENTERPRISE to manage their multichannel eCommerce operations. SalesWarp was selected out of three leading order management systems, being chosen for their scalability, product and inventory management features, and the ability to seamlessly integrate with Volusion, Magento, Amazon and eBay.
"ANS Xtreme Performance needed a system that would streamline order and inventory management and allow their team to easily manage a large, complex product catalog across multiple channels ", says David Potts, CEO & Founder of SalesWarp. "With SalesWarp's ERP + eCommerce software, ANS can consolidate and easily manage all eCommerce operations from one system helping them improve efficiencies while reducing costs".
SalesWarp's ERP + eCommerce management software helps retailers consolidate and manage all eCommerce operations from one system. In addition to standard ERP functionality, SalesWarp provides all the features specific to the retail and eCommerce industry, equipping retailers with the tools needed to deliver a successful omni-channel experience. Additionally, SalesWarp is delivered as commercial source code, giving retailers even greater control to configure the system to meet their specific business needs and requirements with ease.
The SalesWarp ERP + eCommerce management software is quickly becoming the solution of choice for retailers like ANS Xtreme needing an omni-channel solution that can centralize product management, connect and manage their shopping carts and online marketplaces, provide real-time order and inventory management, integrate suppliers and warehouses, automate purchasing, and consolidate customer management.
ANSGear.com has been a leading retailer of paintball gear and apparel around the world for over 15 years. They currently sell on Volusion under the ANS brand, on two additional Magento stores, as well as Amazon, and eBay.
"We needed an enterprise solution to centralize all of our operations from order and inventory management down to shipping and complete warehouse management," says Derek Dunbar, Director of Operations at ANS Xtreme Peformance. "SalesWarp provided us with the platform needed to connect all of our sales channels into just that, a centralized location where all can be managed from one administrative panel."
"Additionally, SalesWarp has provided us with some of the best customer service and solution development teams that we have ever worked with," added Dunbar. "The combination of the SalesWarp features and the support they provide was not something other competitors were able to provide for us. We very much look forward to our future partnership."
About SALESWARP (http://www.SalesWarp.com)
SALESWARP, developed by 6th Street Inc., is an ERP + eCommerce management software that helps retailers manage all eCommerce operations from one system. Through powerful automation and integration tools, retailers can easily manage products, orders and customer data while streamlining supplier and inventory management to ensure the delivery of an omni-channel shopping experience. SalesWarp offers both an Enterprise and cloud solution (SalesWarp SPARK) and currently integrates with Volusion, Magento, Demandware, osCommerce, Amazon and eBay. SalesWarp helps retailers increase sales, improve quality and reduce costs.
About ANS XTREME PERFORMANCE, INC.
At ANSGEAR, our main goal is the satisfaction of our customers. We have been a leader in the paintball community around the world for over 15 years and have helped grow the sport of paintball into what it is today. We strive to provide you with a pleasant and easy shopping experience by offering the best price, best service, best selection, promptness, and reliability.