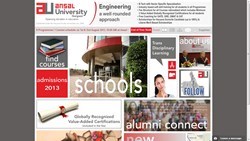 Ansal University differs from other academic institutes in India in providing most advanced form of education. It provides its students with an atmosphere which leads to their all-round development.
Delhi NCR, India (PRWEB) September 13, 2013
Ansal University's Tuck Shop was officially launched on August 21. The ribbon cutting ceremony was performed by University Vice Chancellor Dr. C.S. Nagpal. The shop sells mugs, bottles, stationary, t-shirts caps, with all products having logo and name of the Ansal University.
One of the staff members present at the inaugural ceremony said, "Ansal University, Gurgaon feels elated on the official launch of much awaited Tuck Shop. The shop is a practical example of marketing in university's vicinity. Our collection includes customized sweatshirts, teddy bears, pens, bottles, caps, t-shirts, diaries and water bottles for student use, all with the name and logo of the university. This shop is like a dream come true for students, faculty members and administration."
The Tuck Shop opened shortly after confectionary 'Bake House Cafe' which has been in operation since July. Apart from Wi-Fi enabled campus and fully equipped lecture halls, the university has a sports complex and an amphitheatre for cultural activities. The university is proud of its cafeteria, snack bars, kiosks, coffee day express and other recreational facilities. Banks, ATMs, Shopping Malls and leading hospitals are available within two Km from the campus. The TucK Shop is an addition to all these on campus facilities.
"Ansal University differs from other academic institutes in India in providing most advanced form of education. It provides its students with an atmosphere which leads to their all-round development. We have seen toppers collapse in real life scenario due to lack of proper training and personality development. Our Trans disciplinary learning, art and cultural activities and sports recreation has helped students in recognizing their hidden potentials and overcoming their fears," added the professor.
Ansal university is a reputed fine arts college and amongst top MBA colleges in Gurgaon. Ansal University is a considerably good option for students looking forward to enrol in engineering college in Gurgaon.
About Ansal University, Gurgaon:
Ansal University Gurgaon was established in 2012 with an aim to bring about revolutionary changes in education sector through advanced education modalities. The University has a sprawling campus in the heart of Gurgaon city. It nurtures students to lead future communities and organizations, where they can apply their talent and knowledge and conduct their work with the rigor and steadfast purpose that is common to all great institutions. A team of over 150 intellectuals is dedicated to create future experts of management, science, languages and designs. To know more about Gurgaon MBA colleges, click here.
Contact Details:
Ansal University
Website: http://www.ansaluniversity.edu.in
The campus infrastructure ensures that you have what you need to work and play hard! The University boasts of a sprawling 14-acre wi-fi-enabled well-maintained, green campus. Besides well-lit, well-ventilated and fully-equipped lecture theatres and classrooms, the University has state-of-the-art computer and other laboratories, language labs, hotel management labs, a modern networked library, round-the-clock high-speed Internet access through a leased line, video conferencing facilities, a sports complex, a well-laid amphitheatre for cultural and other events, on-campus lockers, on-campus housing for boys and girls, a fleet of buses to cover transportation from major parts of Delhi, Gurgaon and Faridabad, a cafeteria, snack bars, kiosks, Coffee day express, Baker House cafe and other recreational facilities on the campus to enrich the overall educational experience of a student. Besides recreational facilities, our entertainment groups bring a variety of shows to the campus each year including reputed musicians and singers performing live on our campus. So come, make the best of your campus experience.
Emergency medical help/ preliminary first aid is available on the campus in case of need. The doctor visits the Campus on Monday and Thursday every week. The doctor is also available at the hostels on Tuesdays and Fridays. At AU we urge everyone to take responsibility in providing a safe and healthy environment.