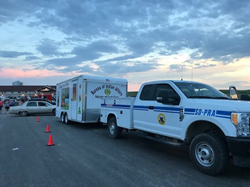 This effort has the potential to save lives and build brighter futures together.
RAPID CITY, S.D. (PRWEB) April 02, 2019
If a mobile home catches fire, it can burn to the ground in about seven minutes. If this home is in a remote part of Oglala Lakota County, it can take emergency responders as long as an hour to arrive. On the Pine Ridge Reservation and surrounding communities there are seven fire stations to serve an area the size of Connecticut. In natural disasters such as the flooding that Oglala Lakota residents are dealing with this spring, emergency response efforts become even more crucial.
This is one of the challenges students at the South Dakota School of Mines & Technology are tackling through the Engineering Projects in Community Service (EPICS) program. The Pine Ridge Emergency Management Team is using computerized maps to find the best locations for new fire and ambulance stations on Pine Ridge. Students have spent many hours calculating travel times and plotting current infrastructure such as power and water lines to determine the optimal locations for new facilities.
The project was developed through a Memorandum of Agreement between the Oglala Sioux Tribe, Oglala Sioux Lakota Housing, SD Mines and Louis Berger to work together on projects that help to build the Oglala Lakota Nation on the Pine Ridge Reservation.
"This effort has the potential to save lives and build brighter futures together," says Jennifer Benning, Ph.D., an associate professor of civil and environmental engineering who leads the EPICS program at SD Mines. "This project is particularly motivating for students, because they are communicating with tribal representatives and hearing very real and personal stories about the critical need for an improved emergency management system on Pine Ridge. The students are engaging in hands-on learning while making a real difference in these communities."
Proper fire and ambulance services are a vital part of economic development in Pine Ridge. For example: local banks and insurance companies are reluctant to loan money or provide coverage to new businesses that want to set up shop in any area where they can't ensure a fire department will be able to respond quickly.
During this project students have spent hours traveling back and forth to different communities to meet with residents of the Oglala Lakota Nation to incorporate their input. Students are conducting public meetings in each district on Pine Ridge during the months of March and April.
In a second phase of the project, Civil and Environmental Engineering Capstone student teams are designing an individual fire station for the village of Pine Ridge with input from local community members. The students, instructed by Marc Robinson, Ph.D., with collaborative input from Benning and professionals at Louis Berger, will present their designs during the SD Mines Design Fair on April 16, in the Surbeck Center Ballroom. Students involved in this phase of the project include Amber Steele, William Smith, Amanda Booton-Popken, Lucas
Chmela, Chad Reimer, Brennen Udager, Zachary Sextro, David Musgrave, Kaz Matsuda and Eric Simonton.
This project is happening through the support of the US Department of Agriculture through two collaborative Community Facilities Technical Assistance and Training Grants, developed by Jennifer Benning and Cheryl Chapman, Ph.D., vice president at Louis Berger.