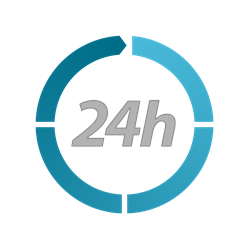 You have just fixed my problem that I paid $300 to try to fix!
Wilmington, Deleware (PRWEB) January 30, 2014
Having an expert on call may seem like an impossible dream, but a new website is helping frustrated homeowners and computer users' dreams become reality. 24hAnswers.com is a new website syndicating several answer websites into one helpful resource. The website removes the need to contact an expert for help on computer problems, appliance repair, air conditioner repair, electrical or plumbing issues. Now help can be found online with a click of the button. Hiring a professional can cost hundreds of dollars, however, 24hAnswers.com is making this advice available for free.
Offering a quick 24 hour turnaround, 24hAnswers.com allows users to pose questions to experts, then receive an answer. The website is the central hub for the other sites in the 24h family, including 24hComputerRepair.com, 24hApplianceRepair.com, 24hPlumber.com, 24hElectrician.com and 24hACRepair.com. The sites are helping frustrated homeowners and computer users get the answers they need when they need them. Each website offers free instructional videos and other resources to help consumers and any questions may be asked regarding the sites' topics.
24h wanted to make it easy to ask a question to all of the services, therefore they created 24hAnswers.com. Now users can pose a question for any of the topics, and receive an answer in a timely manner. Users are encouraged to share the experience with their friends, using the website's social sharing buttons. The website takes care to address each question received to present a well-executed and thoughtful response. The result is timely response, without resorting to calling an expert and incurring expensive charges.
"Connect with Professionals" is the hallmark of 24hAnswers.com and their commitment to provide quality information extends throughout their websites. One user said regarding a computer repair question, "You have just fixed my problem that I paid $300 to try to fix!" If you find yourself stuck with bothersome problems now have a new resource to which you can turn to.