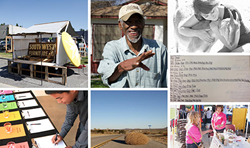 Lancaster, CA (PRWEB) May 07, 2015
"I Hope The Wind Don't Blow" is a presentation of the Antelope Valley Art Outpost program, a creative placemaking initiative that supports regional vitality through artist-driven projects supported by a partnership between Otis College of Art and Design/Public Practice Program, Los Angeles County Arts Commission (LACAC), MOAH, the Greater Antelope Valley Economic Alliance (GAVEA), the Department of Regional Planning, and the Office of Supervisor Michael D. Antonovich, to engage local community members with artists in developing public expressions of community concerns and identity. Outpost dovetails with the development of the Antelope Valley General Plan, and is funded by the National Endowment for the Arts (NEA) and the California Arts Council with support from Metabolic Studio.
"I Hope the Wind Don't Blow" is one outcome of the Outpost partnership, highlighting the artist and community process, showcasing projects by eight Otis College of Art and Design Graduate Public Practice student engagements with residents of the unincorporated communities of Sun Village and Littlerock, Antelope Valley. The presentation opens on Saturday, May 9, 2015 and ends on Sunday, May 17, 2015. A public reception will be held Saturday, May 9, 6-8PM.
From September 2014 Otis students have interacted with Littlerock and Sun Village residents to observe and engage with various aspects of life in Antelope Valley, to better understand some of the social and economic issues facing the area. Focusing on economics, history, the environment, youth development, and culture, Otis students created collaborative and artistic platforms and reflections that represent many local voices, experiences and social conditions.
The Outpost process has included students assisting in the development of a series of Open Conversations, free public lectures and workshops that brought leading Social Practice artists to the Antelope Valley to discuss and demonstrate the value of combining art and social practice. MacArthur Fellow Rick Lowe, eco-artists Kim Stringfellow and Susan Liebovitz Steinman, place-maker Lauren Woods, the Las Cafeteras band, and the IOU Theater from Lauren Bon's Metabolic Studio have brought skills, play, conversation and insights to the region.
Otis students attended intensive weekly class sessions to develop social engagement skills including active listening, eliciting engagement, play through food/music/film and dialogue, site exploration, as well as other social and aesthetic skills. Key teachers developing and adapting curricular structure behind Outpost events are - Dorit Cypis (Lead Teacher and Managing Director), Misael Diaz, Tracee Johnson, Sara Daleiden and Laurie Peake. Suzanne Lacy, Chair of Otis College of Art and Design's Graduate Public Practice Program, with Consuelo Velasco, co-developed the Outpost partnership.
FEATURED PROJECTS:
"Open Road: A Folder Map of Littlerock and Sun Village" by Henderson Blumer
Henderson Blumer has developed a digital archive structured according to the road systems of Sun Village and Littlerock, to house the local voices of its users. The archive will be a tool for entering and/or continuing to engage the communities.
"Murals in the Desert" by Jeanette Degollado
Jeanette Degollado collaborated with local artists in the Antelope Valleys to create temporary eco-murals in the desert. The project speaks to the formalities of how objects left in the desert become trash or artifacts and how the context of the "mural" changes when taken out of it's intended environment.
"Milk" by Margarethe Drexel
Engaging with local workers at Soledad Farms, a local Antelope Valley goat rescue farm to learn how to produce goat cheese, Margarethe Drexel plays with human expectations, notions of home, nature, and landscape - idealized picture postcard images that glorify life - exploring the past to reveal how we mesh our lived home experience with our idealization of home.
"Little Village" by Mark Farina
Mark Farina juxtaposes time-lapse photography with local narratives in Little Village, an experimental film that acts as a period piece, a small portrait of the land and people in Littlerock, Sun Village, and the greater Antelope Valley. Farina recorded in the Antelope Valley area over the last 6 months, and includes seasonal environment changes and shifting weather patterns to document communities on the verge of great changes.
"You Are Here" by Jennifer Kane & Beth Ann Morrison
Building a platform for community exchange, Jennifer Kane and Beth Ann Morrison have created a transformable trailer that will demonstrate alternative means of participating in the informal economy of Littlerock and Sun Village. You Are Here reveals educational and community connections based in an esthetics of found materials with textures and colors that sing an uplifting vernacular.
"Breaking the Cycle: Changing Perceptions of Experience" by Shefali Mistry
Shefali Mistry uses her experience in student advocacy and higher education organizing to give the students at Littlerock High School (LHS) a voice about matters that affect their lives. Working from statistical research showing low graduation and college attendance rates, she seeks to give context to these issues and elicits the students' feedback on the messages they receive about education, college, job training, and other life options.
"Food for Thought: Sun Village Celebrates 75 Years" by Catherine "Scoti" Scott
Scoti has engaged with members of Sun Village socializing through food and breaking bread, a signature element of the community. Her project celebrates Sun Village, its histories and memories and provides a thumbnail glance at the complexities and beauty of a community that prepares for the future through persistent efforts to maintain autonomy - water rights, boundary disputes, growth, and annexation. 
What is Outpost?
Antelope Valley Art Outpost (Outpost) is a creative placemaking project that supports regional vitality through innovative, artist-driven projects in the unincorporated communities of Littlerock and Sun Village. Managed by the LACAC, Outpost dovetails with the development of the Antelope Valley General Plan and will inform the direction for each community. The project is funded by the NEA and the California Arts Council, with support from Metabolic Studio.
What is creative placemaking?
In creative placemaking, public, private, nonprofit and community sectors partner to strategically shape the physical and social character of a place by leveraging creative assets to support community development.
Who is involved?
Outpost is a cross-sector partnership where artists work alongside residents and community stakeholders to develop projects and programs. Outpost partners include: the Otis College of Art and Design MFA Public Practice program, the MOAH, GAVEA, the Department of Regional Planning, and the Office of Supervisor Michael D. Antonovich.
For more information about Outpost and how to get involved, email moahcedar(at)cityoflancasterca(dot)org or visit http://lacountyarts.org/outpost/about-outpost.
EVENT DETAILS
"I Hope the Wind Don't Blow"
MOAH/Cedar
44845 Cedar Ave,
Lancaster, California
May 9 – May 17, 2015
Public reception Saturday, May 9, 6-8pm
ABOUT OTIS GRADUATE PUBLIC PRACTICE PROGRAM
The only educational program in the Southern California region dedicated exclusively to providing artists with advanced skills for working in the public sphere, the Otis Graduate Public Practice Program focuses on both collaborative and individual production in a variety of urban and rural social contexts. The program, under the leadership of Suzanne Lacy, renowned author, artist, educator, and theorist of socially engaged public art, invites respected professionals in the field to prepare students to apply traditional media-specific art strategies to active community engagement. More information visit http://www.otis.edu/graduate-public-practice
ABOUT OTIS COLLEGE OF ART AND DESIGN Established in 1918, Otis College of Art and Design is a national leader in art and design education. The College mission is to prepare diverse students of art and design to enrich our world through their creativity, skill, and vision. Alumni and faculty are Fulbright, MacArthur, and Guggenheim grant recipients, Oscar awardees, legendary costume designers, leaders of contemporary art movements, and design stars at Apple, Abercrombie & Fitch, Pixar, DreamWorks, Mattel, Nike, and Disney.
Otis enrolls approximately 1,100 full-time students, and offers Bachelor of Fine Arts degrees in Architecture/Landscape/Interiors, Digital Media (Game and Entertainment Design, Animation, and Motion Design), Fashion Design, Communication Arts (Graphic Design, Illustration, and Advertising Design), Fine Arts (Painting, Photography, and Sculpture/New Genres), Product Design, and Toy Design. Otis also awards the Master of Fine Arts degree in Fine Arts, Graphic Design, Public Practice, and Writing.
The five-acre main campus is located on L.A.'s Westside near the beach and LAX; Fashion Design is in the heart of the downtown fashion district; and the Graduate Studios are on the Creative Corridor in nearby Culver City, and in the 18th Street Arts Center in Santa Monica. 2,700 adults and children participate in Continuing Education art and design classes and workshops.
Additional information is available at http://www.otis.edu