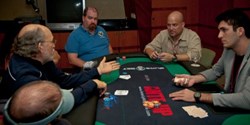 This is by far the most unique sailing Ante Up Poker Cruises has done. - Scott Long, publisher of Ante Up Poker Media LLC
Clearwater, FL (PRWEB) February 04, 2014
Ante Up Poker Cruises will make its first Transatlantic voyage May 4-17, 2014, sailing from Fort Lauderdale, Fla., to Southampton, United Kingdom.
The sailing, aboard Royal Caribbean's Independence of the Seas, will make port stops in Nassau, Bahamas; Charlotte Amalie, St. Thomas; and Philipsburg, St. Maarten before crossing the Atlantic Ocean.
Ante Up guests will enjoy all of the amenities that Royal Caribbean provides its guests - gourmet dining, exciting shows, on-board activities, etc. - but will also have access to the Ante Up Poker Room. The Ante Up Poker Room is a professionally staffed and equipped poker room, featuring cash games, tournaments, classes and more throughout the duration of the cruise. Guests will also be treated to a private open-bar cocktail party on the first night of the cruise.
"This is by far the most unique sailing Ante Up Poker Cruises has done," said Scott Long who, with Christopher Cosenza, is publisher of Ante Up Poker Media LLC, promoter of Ante Up Poker Cruises. "We'll provide a friendly room in which to enjoy poker with other players who no doubt will become life-long friends, as well as daily classes so guests can learn a number of new poker games and improve on the games that they already know."
Rates start at $849 per person, based on double occupancy, and are guaranteed through Feb. 14. To book, contact Jeanne Cosenza at (727) 742-3843 or cruises(at)anteupcruises(dot)com.
Ante Up has four other poker cruises in 2014 - March 30 out of Los Angeles, sailing to the Mexican Riviera; July 28 out of Port Canaveral, Florida, sailing to the Bahamas; Oct. 19 sailing out of Galveston, Texas, to the Western Caribbean; and Dec. 6 sailing out of Tampa, Florida, to the Western Caribbean. For more information on all Ante Up Poker Cruises, please visit Ante Up's cruise webpage.
For sponsorship opportunities on Ante Up Poker Cruises, please contact Scott Long at (727) 331-4335 or scott(at)anteupmagazine(dot)com.
---
Ante Up Poker Media LLC is a diversified poker media company, with products that include Ante Up Magazine, AnteUpMagazine.Com, Ante Up Poker Cruises, Ante Up Poker Tour, Ante Up PokerCast, Ante Up Poker Leagues, Ante Up Television and more.