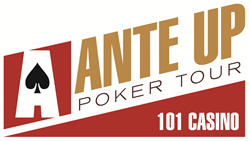 "The North Bay Poker Open has a nice variety of events with attractive structures and realistic buy-ins," said Nicole Provolt, The 101 Casino General Manager. "Partnering with Ante Up helps bring legitimacy and excitement to the series."
Petaluma, CA and Clearwater, FL (PRWEB) March 11, 2014
The early part of the 2014 Ante Up Poker Tour season has been a gold rush for California players.
Less than two months after Cordova Casino near Sacramento kicked off the 2014 schedule, and just a day after the Ante Up Poker Cruise that sails from Los Angeles returns, The 101 Casino just north of San Francisco will host the fourth Ante Up Poker Tour series of the year, the North Bay Poker Open on April 7-13.
"We are excited and looking forward to hosting a fantastic event," said Nicole Provolt, general manager of The 101 Casino in Petaluma. "The North Bay Poker Open has a nice variety of events with attractive structures and realistic buy-ins. Ante Up is a strong name in the local poker community and partnering with Ante Up helps bring legitimacy and excitement to the series."
The North Bay Poker Open features five events, starting with a $100 no-limit hold'em event April 7 with a $2,000 prize guarantee and culminating with a $400 main event, which has three starting flights spread between April 11-12 and concluding April 13. The main event touts a $40,000 guaranteed prize pool, the winner will appear on the May cover of Ante Up, will win a seat in the Ante Up World Championship Main Event in August and a personalized Tour champion's jacket.
All told, the North Bay Poker Open, which also features a pot-limit Omaha, no-limit hold'em deepstack and no-limt hold'em bounty events and two mega satellites that guarantee five main-event seats each, is guaranteeing $53,000 in prize money. The series comes not long after The 101 Casino completed a successful series sponsored by 2 Pair Magazine.
"We looked back to our series with 2 Pair Magazine to figure out which events were most enjoyed and participated in by players. We added a pot-limit Omaha bounty event that goes hand-in-hand with our growing pot-limit Omaha cash games," Provolt said about the planning for the Ante Up Poker Tour series. "It gave us the confidence to know that we have the ability to continue to host similar series; even building to larger guarantees and an increased variety of events."
As an added bonus for players, Hold'em Radio, which has a strong following of listeners in Northern California and Reno, will live stream Day 2 action, just as it did for the earlier series.
"We are very excited to be working with Hold'em Radio again," Provolt said. "We were more than impressed with their professionalism and ease to work with. They have a very strong presence in the poker community and we are grateful to bring them aboard to help support and add value to the event."
When players get knocked out of events, The 101 Casino spreads a wide variety of cash games, including $3-$6, $4-$8 and $6-$12 limit hold'em, $2-$5 no-limt hold'em, $2-$5 pot-limit Omaha and $4-$8, $6-$12 and $10-$20 Omaha/8.
"We also offer mixed games and will spread any game at the player's request," Provolt said. "We recently opened a VIP poker room and are looking to build higher action games as well."
The 101 Casino also offers no-commission no-collection blackjack, with eight decks and two decks, plus EZ baccarat, Three Card Poker and Fortune Pai Gow, as well as a restaurant and full bar.
"The 101 Casino offers a friendly, safe and pristine environment for all our guests," Provolt said. "We offer a consistent gaming and dining experience centered on customer service. We proudly offer what we are comfortable referring to as the most-aggressive promotions and easiest jackpot qualifiers in the bay area."
North Bay Poker Open
April 7 - Event 1, $100 no-limit hold'em
April 8 - Event 2, $140 pot-limit Omaha
April 9 - Event 3, $140 no-limit hold'em bounty
April 10 - Event 4, $240 no-limit hold'em deepstack
April 11-13 - Main Event, $400 no-limit hold'em
For structures, satellite schedule and more information, visit anteupmagazine.com/101Casino.
------------------------------------------------
The Ante Up Poker Tour is a nationwide series of poker tournaments presented by Ante Up Poker Media LLC. For more information on hosting an event or sponsoring the Tour, please contact Scott Long at (727) 331-4335 or scott(at)anteupmagazine(dot)com.