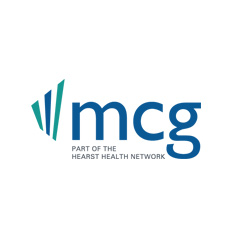 Our commitment to patient safety, innovation, and implementing best practices has realized tangible financial benefits from the utilization of MCG care guidelines. - Dr. Fran Witt, President and CEO of Effingham Health System
SEATTLE (PRWEB) February 09, 2021
MCG Health, part of the Hearst Health network and an industry leader in evidence-based guidance and healthcare technology, announces the recipients of its 2020 Richard L. Doyle Award for Innovation and Leadership in Healthcare. This year, due to the heroic efforts of so many healthcare organizations, MCG expanded the award to recognize two payer and two provider organizations that demonstrated innovative use of evidence-based guidance and technology. Also specific to this year, the award recognizes organizations that leveraged MCG solutions in response to the COVID-19 global pandemic. The winners for 2020 are Anthem Blue Cross Blue Shield, Cleveland Clinic, CDPHP, and Effingham Health System.

Of the winning organizations, MCG President and CEO, Jon Shreve, said, "Even in a year as difficult as 2020, it is inspiring to see healthcare leaders overcome unparalleled challenges with passion and ingenuity to achieve what's best for the patient."
The 2020 Richard L. Doyle Award will be presented to each recipient organization at MCG's annual Client Forum in San Antonio, Texas (October 4-6, 2021). You can learn more about the award and past winners at https://www.mcg.com/doyle-award/.
###
About MCG Health
MCG, part of the Hearst Health network, is an industry leader in evidence-based, clinical decision support and healthcare technology. MCG's transparent and unbiased assessment of the latest scientific research and scholarly articles, along with robust data analytics, helps payers, providers, and government agencies feel confident in their healthcare decisions. For more information visit http://www.mcg.com or follow our Twitter handle at @MCG_Health.
About Hearst Health
The mission of Hearst Health is to help guide the most important care moments by delivering vital information into the hands of everyone who touches a person's health journey. Each year in the U.S., care guidance from Hearst Health reaches 85 percent of discharged patients, 205 million insured individuals, 103 million home health visits and 3.2 billion dispensed prescriptions. The Hearst Health network includes FDB (First Databank), Zynx Health, MCG, Homecare Homebase and MHK (formerly MedHOK). Hearst also holds a minority interest in the precision medicine and oncology analytics company M2Gen. Follow Hearst Health on Twitter @HearstHealth and LinkedIn @Hearst-Health.