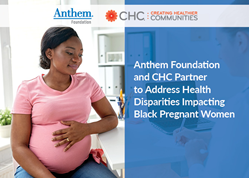 Through the Anthem Foundation's funding, CHC will be able to determine the efficacy of early screening and identification, combined with proven, community driven interventions in improving birthing outcomes for Black women.
ALEXANDRIA, Va. and INDIANAPOLIS (PRWEB) March 30, 2022
Anthem Foundation and CHC: Creating Healthier Communities today announced a three-year $7 million grant partnership focused on reducing the high rates of preterm births among Black women in three states.
The United States stands out among other developed nations for having some of the poorest health outcomes for pregnant women, new moms and babies. Maternal and infant health outcomes are especially concerning for women and babies of color. Numerous studies have found that Black women experience premature births at a 50 percent higher rate as compared to other women.
"As we focus our efforts on addressing the Black maternal health crisis in this country, we are encouraged by the opportunity before us to test and refine an intervention model that can be widely adopted by a range of healthcare providers. The model leads with a novel screening process aimed at improved birthing outcomes for Black women and their babies," said Valerie L. Rochester, chief health equity officer at CHC.
The Anthem Foundation and CHC's initiative will utilize racially and culturally specific measures of stress for Black mothers, to screen thousands of expectant Black mothers in Indiana, Georgia and Ohio. The project will identify stressors and other health related social needs affecting preterm births and work with community-based organizations to provide appropriate interventions.
"While we saw the U.S. preterm birth rate decrease in 2020 for the first time since 2014, one in 10 babies were still being born prematurely. And when looking at the preterm birth rate among Black women (14.4 percent), that's almost 50 percent higher than the rate white and Hispanic women were experiencing," said Shantanu Agrawal, M.D., Chief Health Officer of Anthem. "Through the Anthem Foundation's funding, CHC will be able to determine the efficacy of early screening and identification, combined with proven, community driven interventions in improving birthing outcomes for Black women. Not only will CHC's initiative address the Black maternal health crisis, but it will improve overall maternal and infant health, especially in communities of color where health disparities have a dramatic impact on outcomes."
The project will offer timely support, with lifestyle coaches and doulas for expectant Black women, and is novel in its approach, coupling service delivery with research. By measuring the impact of the screening and interventions, the result of this project will be an evidence-based case study with a standardized screening tool and interventions tailored to the lived experiences of Black women, which can be rolled out and customized by community partners and health systems nationwide.
"To make real change in health, we must invest in measurement and learn from data. The Anthem Foundation is doing just that, prioritizing effective solutions," said Thomas G. Bognanno, president and CEO of CHC: Creating Healthier Communities. "The importance of this project cannot be understated, as it provides both immediate interventions to address the greatest maternal health disparities—such as those faced by expectant Black women—as well as research, measurement and practical screening tools and that will have far-reaching, long-term benefits."
Leading partners in this initiative include Black Women's Health Imperative, Health by Design, Indiana Minority Health Coalition, MetroHealth, Strength in Numbers Consulting Group, and many other local, community-based organizations that embrace the lived experiences of Black women.
Previously, CHC and the Anthem Foundation partnered to develop the first-of-its-kind health equity database and new typology for defining community partnerships.
About CHC: Creating Healthier Communities
CHC: Creating Healthier Communities brings nonprofits, businesses, and communities together around a shared commitment to better health and wellbeing. For more than 65 years, CHC has worked with partners to address the barriers to good health and equity and create resilient communities where everyone can thrive. CHC's role is to advance equity, enhance the capacity of nonprofit organizations, connect and convene diverse stakeholders, and harness collective resources and programs to activate collaborations that address root causes, increase impact, and improve the health of our communities. Join us at https://chcimpact.org or @chcimpact.
About Anthem Foundation
The Anthem Foundation is the philanthropic arm of Anthem, Inc. The Foundation works to address health equity by focusing on improving the health of the socially vulnerable through strategic partnerships and programs in our communities with an emphasis on maternal child health; mental health; and food as medicine. The Foundation also coordinates the company's year-round Dollars for Dollars program which provides a 100 percent match of associates' donations, as well as its Volunteer Time Off and Dollars for Doers community service programs. To learn more about the Anthem Foundation, please visit http://www.anthem.foundation and its blog at https://medium.com/anthemfoundation.