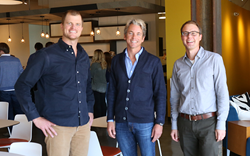 Anthem is really breaking molds and will open up eyes for the Midwestern office market. – Matthew Hufft, Founder
Leawood, KS (PRWEB) January 23, 2015
Anthem Ventures, a portfolio of software companies, media brands, and marketing firms, announced today that it has selected the Westport neighborhood of Kansas City, Missouri to develop a new style of work environment to accommodate its growing workforce and that of its clients and partners. Matthew Hufft and Hufft Projects has been selected to reimagine how an environment can encourage behaviors and a culture critical to success in today's business world.
The project is focused around an historic 15,000 square foot building on the east side of Westport, convenient to some of the city's best dining, shopping and cultural experiences. A unique aspect of the space includes sophisticated accommodations for executive suite tenants, coworker stations and creative spaces for larger employers looking to inject new energy into their teams, all available on demand. This new productivity and collaboration concept, Work™, is planned to open in May of this year.
Hufft has also been engaged to reimagine Anthem's Florida office which will be relocated to a historic building adjacent to the sophisticated marina district of Daytona Beach during the second quarter.
"Work™ has evolved from this idea I sketched out on a hotel desk pad in 2012 that centered on an employee's ultimate fulfillment of lifestyle. Anthem companies generally don't have office hours or limit vacation, the workforce is mobile. We've got a culture of personal accountability that is rewarded with ultimate freedom.
"Our Leawood office project has been invigorating. Clients started showing up to hang out at the coffee bar or hold strategy meetings with their teams or do software code reviews in our storytelling room. Work™ in Westport is the culmination of this vision. The environment encourages activities and supports new work styles inherent in today's mobile workforce. We are really excited to open our doors to other like-minded professionals in this great city.
"I had been following Hufft Projects work for several years and was eager to engage them when we decided to expand. Matthew and his team were with us from the beginning. We toured dozens of buildings across the city. The quality of his people and his creative vision is inspiring." Brian Weaver – Founder, Anthem Ventures
"We are very excited about this project for so many reasons. Anthem is really breaking molds and will open up eyes for the Midwestern office market through our use of new work methods, furniture, zones, and meeting areas. The design will promote healthy and holistic living – something that is really required to be efficient and effective in today's competitive and globalized world." Matthew Hufft – Founder & Creative Director of Hufft
"The ever-changing workplace has been a topic of conversation for the last several years. Anthem's new office and coworking space will blur the lines between work and life. It supports a flexible, collaborative environment that can change to facilitate all types of work. Open offices, café, lounge, scrum rooms, presentation rooms, phone rooms, huddle rooms and standup meeting space all come together to provide a variety of environments that help to produce a pleasant and higher functioning workplace for a new generation of worker. We are thrilled to partner with Anthem on this new space and cannot wait to see this project's impact on the fabric of our city." Kali Buchanan – Hufft Director of Interior Design
More Information
For additional information, call Anthem Ventures at (913) 894-6923. Visit the company website at http://thisisamg.com/