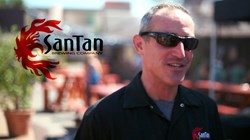 Arizona, USA (PRWEB) October 05, 2013
San Tan Brewing Company, owned by Anthony Canecchia, is one of the leading micro breweries in Arizona. Recently, it was featured on the latest list of 10 best breweries announced by Phoenix New Times. The brewery has some exciting plans for the coming months including the much awaited Oktoberfest.
Beer is undoubtedly one of the most favorite drinks of Americans and brewery has gained a lot of respect and international acclaim over the last few years. Popular breweries like San Tan Brewing Company have actually compelled people to love breweries and the beer made at such facilities. Recently, the Arizona-based brewery was featured on 10 best breweries list announced by Phoenix New Times.
The brewery was started and currently owned by Anthony Canecchia who recently announced about big plans for the company, and many exciting events that would be organized over the coming months. The month of October in particular would be an eventful one with upcoming events and celebrations like Oktoberfest, Happy Columbus Day, Sedona Oktoberfest, Check Please Testing Tour, and Happy Halloween.
Explaining how customer feedback helps in improving the quality of beer they make, Anthony Canecchia was quoted as saying - "The feedback from the people drinking the beer has a lot to do with the way that the craft beers will evolve from the San Tan Brewing Company. This is because it is important to create a beer that not only tastes great, but will be well received by those who are actually buying the beers."
Giving credit to the motivated and a proud team for the success of the brewery, Anthony further said - "Those involved in the brewing process at San Tan Brewing Company are totally into what they are doing. There is a lot of pride that goes into not only selecting the best ingredients to make the best craft beers, but combining the ingredients in the right way to create a finished product the whole team can be proud of."
Brewery fans can log on to the website of the company to know more about the upcoming Oktoberfest event to be organized in the brewery on October 5, 2013.
About the Company
San Tan Brewing Company is a leading micro brewery based out of Arizona. Anthony Canecchia is the owner of the company and he has plans of taking the brewery to the next level of expansion.
To know more about San Tan Brewing Company, visit http://www.santanbrewing.com.