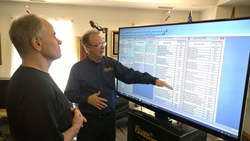 By reducing the time of pain, suffering and time to treatment from hours, to mere minutes, we reduce hospitalization, medical complications, loss of cognitive and physical function, and mortalities. It is a fulfilling calling. - CEO Anthony Dohrmann
Carlsbad, California (PRWEB) January 15, 2015
For senior citizens 65 and older, the number one cause of accidental death, as well as the leading cause of traumatic brain injury and loss of independence, is falls. One-third of all people 65-80 will fall each year and half of people 80 and older will fall each year. What many family members don't know is that falls can often be predicted and prevented. The Electronic Caregiver Company, in partnership with New Mexico State University, home of the an advanced fall assessment and prevention laboratory, is bringing their state of the art, 3-D mobile fall risk assessment laboratory to San Diego.
For six days, The Electronic Caregiver is hosting their laboratory and technical team to provide comprehensive fall screenings to San Diego seniors at no charge. Seniors will be assessed by world-class experts and technologies. Each screening is non-evasive and incorporates an array of 3-D imaging cameras, pressure walkway containing 11,000 micro sensors, multi-point biomarkers, Google Glass and a proprietary falls risk screening instrument (CFRSI) software application.
In approximately 20 minutes, a consultative report is provided to each senior participant, demonstrating their fall risk score and an explanation of their personal gait deficits and anomalies that can lead to pain, injury and catastrophic falls. The report provides suggestions to prevent a fall and is provided to share with a physician, physical therapists, or other recommended professional.
Each participant will receive a complimentary fall prevention DVD and home safety inspection handbook to further improve safety, prevent falls, and promote wellness at home. Seniors can reserve a screening time by calling (760) 839-4688.
Carlsbad Senior Center, Carlsbad, Feb 4th & 11th
San Marcos Senior Center, 111 Richmar Ave, Feb 5th & 6th
Escondido Senior Center at Park Avenue Community Center, Escondido, Feb 12th & 13th
Media Availability from 9 AM - 4 PM on the above dates.