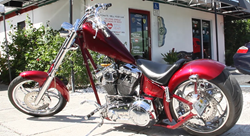 "It's not the monetary amount one gives that matters, it's the act of kindness towards others in need that defines one's character, so please give what you can afford!" - Anthony Caliendo
WEST PALM BEACH, Fla. (PRWEB) October 25, 2018
Local Delray businessman and philanthropist, Anthony Caliendo, otherwise known as "The Main Man" has teamed up with Wheels From the Heart, a Delray Beach non-profit organization dedicated to providing single mothers in need with reliable, clean cars for transporting themselves and their families.
The Main Man Charity Drive Chopper Sweepstakes was launched on October 12, 2018 whereby Caliendo has donated his personal Custom Detroit Chopper in an effort to raise funds and awareness for Wheels from the Heart. The sweepstakes offers entries to win the beautiful motorcycle through consumer donations. Details, entries and donations can be received at http://www.TheMainMainDrive.com.
Caliendo was inspired by his own experiences of being raised by a single mother to donate to this special cause. Influenced and molded as a child by his mother's will to succeed, Mr. Caliendo knows all too well the struggles and challenges that single mothers face on a daily basis. Caliendo says, "The luxury of having personal transportation is something most of us take for granted. Simple things like grocery shopping, getting the kids to school on time, making doctor appointments, even getting or keeping a good job can become an overwhelming obstacle." To date, Wheels from the Heart has donated a staggering 94 cars to struggling single mothers!
Through The Main Man Charity Drive Chopper Sweepstakes, in conjunction with Wheels from the Heart, Caliendo aspires to raise the necessary funds to meet and exceed the goal of 100 donated cars! The Main Man goes on to say, "When you're blessed, become a blessing. Speaking true to the charity's name, 'From the Heart,' this charity calls on all of us to help those single moms who face the day to day disadvantages of not having their own transportation. Open your heart to the local women, children and families in need of a helping hand."
Caliendo believes that we can never do enough to help good families facing adverse conditions advance to a better quality of life, such as helping the son who dreams of playing soccer but cannot get to practice, or the daughter who would love to join band but can't get home from after school activities. Wheels From the Heart is dedicated to help the mother who wishes to provide for her children in the very best ways and needs necessities such as reliable and safe transportation to make their dreams a reality. Caliendo says that if you are fortunate you should strive to make a difference in these family's lives.
http://www.TheMainManDrive.com is live and ready to accept donations for Wheels From the Heart, and as a special token of appreciation, The Main Man is giving all donors complimentary entry into The Main Man Charity Drive Chopper Sweepstakes. "It's not the monetary amount one gives that matters, it's the act of kindness towards others in need that defines one's character, so please give what you can afford," says Caliendo. There are multiple incentivized packages to select from when donating at http://www.TheMainManDrive.com. Caliendo encourages all local residents to be a blessing and support single moms in need within their community. Winner of The Main Man Charity Drive Chopper to be announced December 28th – location will be posted on the website at a later date. Your support is greatly appreciated and will help Wheels From The Heart to advance its efforts in helping single mothers in need through 2019. For more information visit http://www.WheelsFromTheHeart.org.
Anthony Caliendo is a successful entrepreneur, sales & motivational speaker, award-winning, internationally best-selling author of The Sales Assassin: Master Your Black Belt in Sales and co-author of the best-selling book Cracking the Code to Success with the legendary Brian Tracy. He is also one of South Florida's premier business brokers at FNBC Florida, LLC / 1-800-THEMAINMAN, successfully listing and selling millions in businesses for sale. For more information visit http://www.themainman.com.