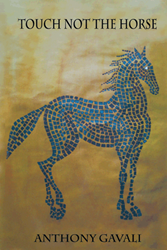 Hidden behind glass doors and Versace suits, author Anthony Gavali takes readers on a rollercoaster ride of despicable, underhanded office activities, black magic and horse rescue in his new supernatural thriller, 'Touch Not the Horse.'
LONDON (PRWEB) March 06, 2015
Hidden behind glass doors and Versace suits, author Anthony Gavali takes readers on a rollercoaster ride of despicable, underhanded office activities, black magic and horse rescue in his new supernatural thriller, "Touch Not the Horse" (published by AuthorHouse UK).
Charlene, an Australian-born, highly ambitious city creature, wants to rise quickly up the corporate ladder. She steals an old manuscript of satanic prayers and curses from a junk shop in return for her soul.
Charlene learns that she must kill Girlie, an abandoned, sacred, black horse. The horse, alongside a Warrior spirit, has been protecting humanity since these bloodlines started warring. Charlene must pull out all the stops to push Dean, her nemesis and number one enemy to the point of complete meltdown. Dean is guided toward rescuing the horse.
Epic battles ensue in this, the ultimate story of evil's attempt to triumph over good. This cleverly woven tale of ancient bloodlines strives for supreme control over all our global resources. MI5 and various historians get involved to work out when these bloodlines will begin the last supernatural battle for ultimate supremacy.
Blueink book review: "It's a highly entertaining, dark thriller that's definitely worth the read."
"Touch Not the Horse"
By Anthony Gavali
Hardcover | 6 x 9 in | 536 pages | ISBN 9781496995407
Softcover | 6 x 9 in | 536 pages | ISBN 9781496995308
E-Book | 536 pages | ISBN 9781496995391
Available at Amazon and Barnes & Noble
Audio | ISBN 9781504937238
Audio available at http://www.authorhouse.com
About the Author
Anthony Gavali worked in banking and finance for 25 years. He helped to rescue a black horse named Girlie, upon whom the horse in "Touch Not the Horse" is based.
AuthorHouse UK Ltd., an Author Solutions, LLC self-publishing imprint, is a leading provider of self-publishing, marketing, and bookselling services dedicated to serving authors throughout the United Kingdom. AuthorHouse UK is committed to providing authors the best self-publishing experience through a wide array of products and services designed to help individual authors realise their unique creative vision. AuthorHouse UK assigns each author a personal publishing, marketing, and book consultant to provide professional guidance throughout the self-publishing process. To date, AuthorHouse UK has released more than 6,500 titles. For more information or to begin publishing a book today, visit authorhouse.co.uk or call 0800 1974150 or follow @AuthorHouseUK on Twitter for our latest news and updates