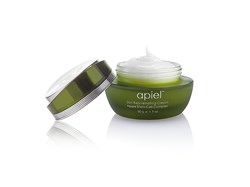 apiel is as unique and powerful for what it contains as for what it does not.
Calabasas, CA (PRWEB) October 10, 2013
About Face Beauty LLC is proud to announce the availability of apiel Skin Rejuvenating Cream with a clinical strength apple stem cell complex. apiel is the culmination of years of research and development into the science of apple stem cell technology, and provides natural-ingredient conscious consumers with an advanced anti-aging formula to fit their lifestyle. By utilizing the highest percentage of active ingredients in the market, and by using natural ingredients, apiel is as unique and powerful for what it contains as for what is does not.
"Clinical studies show that when applied to the skin these precious and potent stem cells show tremendous ability to help skin look rejuvenated. Trials have shown that 100% of people that used clinical strength apple stem cells in their anti-aging regimen saw an average 15% reduction in the appearance of wrinkle depth in the first 28 days. Not only do stem cells help delay aging, but they also help healthy new skin emerge – the appearance of wrinkles is therefore reduced and vitality and radiance renewed," said Moshe Meppen, CEO of About Face Beauty LLC.
apiel combines a highly potent apple stem cell complex (PhytoCellTec™ Malus Domestica) together with Stable Retinol – Vitamin A, Actimoist Bio2 HA® - Hyaluronic Acid, and Stable Vitamin C, to assist in accelerating cell renewal and wrinkle reduction, while providing antioxidant support. apiel is a natural product, and therefore does not use Parabens, Phthalates, Synthetic Fragrances, Synthetic Dyes, Mineral Oil or Petrochemicals, Sulfates, Hydroquinone, Triclosan or SLS/Sodium Lauryl/Laureth Sulfate.
apiel is available in a 1.7 oz. (50g) size - a one month supply – at http://www.apielskincare.com.
Suggested Retail: $ 120 with Free Shipping in the US
About Face Beauty LLC:
About Face Beauty LLC is part of The MetaDolce Group, a diversified worldwide product company based in Southern California. Our company has created and launched products in 104 countries around the globe, generating more than $30 million in sales, and is dedicated to the creation of the highest quality and efficacious products in the market. About Face Beauty LLC combines the strength of a world class product development, marketing, sales, and logistics operation, with offices in Calabasas, California and St. Louis, Missouri, together with decades of collective experience in the creation and marketing of both professional and prestige beauty products. Our team has created successful products for Wella, Joico, Schwarzkopf, and Sebastian.
Contact:
Moshe Meppen
Meppen(at)apielskincare(dot)com
(805) 279-0014
http://www.apielskincare.com