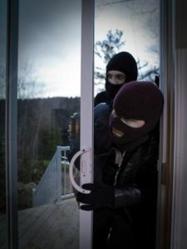 The best preventative home invasion advice from former burglars will help consumers keep their homes off thieves hit lists.
Philadelphia, Pennsylvania (PRWEB) July 09, 2013
Many homeowners have fears about home security, particularly as millions of home break-ins and burglaries are reported in the United States each year, and while the installation of top alarm systems is one of the best ways to prevent home intrusions from occurring, there are other steps homeowners can take to remain safe and secure.
When considering home security, it's often best to take the perspective of an actual burglar to realize what vulnerabilities may lie within a home. AlarmSystemReport.com, a site offering comparisons of alarm systems companies, put together a list of tips compiled from actual burglars that can help homeowners remain safer and more secure.
1. Privacy fences are a burglar's best friend. Homeowners may feel that a privacy fence offers security, but in fact, tall fences just serve as cover for burglars to intrude a home. Burglars love anything that offers protection from the eyes of neighbors, and a privacy fence is just that.
2. Don't leave items in a yard that indicate children live in a home, because if children live in a home it means the mother is likely also present, and to burglars this spells the opportunity for expensive jewelry.
3. Don't use standard screws on screened and security doors. Burglars report that it's very easy to remove these standard screws. Instead, homeowners should opt for specialized screws that are often included by manufacturers with high-quality security doors. These type of screws require a special tool, which makes it more difficult for a burglar to remove them.
4. Don't leave tools and ladders in the yard. Any of these tools or types of equipment can actually make it easier for a burglar to break in or access a higher level entry point, such as a second floor window.
5. Many residents have heard it before, but having signs and stickers indicating a security system is present is one of the best ways to deter a burglar. Regardless of whether or not a home actually has a system in place, it's often not worth the risk for the burglar.
6. Alarm systems should be armed every day, because it's only going to deter a burglar if it sounds upon a break-in. Too often homeowners have alarm systems that are not activated, and this provides no protection or deterrent to a burglar.
About AlarmSystemReport.com
AlarmSystemReport.com is a website that provides visitors with comprehensive information about the home alarm and security industry, including rankings and reviews of top companies such as FrontPoint Security and Lifeshield Security. All reviews are conducted in a unique secret shopper format. Additionally, the site provides valuable security system coupons and discount codes that can save consumers as much as 35% on the installation of a home alarm system.