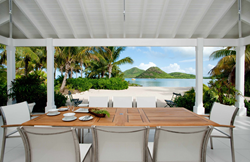 Fully-staffed villas are definitely the exception and not the rule on Antigua.
Providenciales, Turks and Caicos Islands (PRWEB) March 31, 2014
Palm Point, Jolly Harbour is a luxurious and spacious Antigua villa rental. The beachfront villa has a private beach, swimming pool, Jacuzzi, 270 degree ocean views and comfortably accommodates up to 12 guests in the 6 beautiful bedrooms, each with a private bathroom. Due to popular demand, the level of service provided has now been increased, so that Palm Point can now be rented as a fully staffed vacation villa. The staff will include a butler, a chef for breakfast, lunch and dinner, as well as a maid who will also attend to the guests laundry. The new service level also includes a number of additional extras such as concierge service 24 hours per day, golf carts, extra security on request and pre-stocking of the guests preferred groceries.
Additionally, guests at Palm Point now have the opportunity to hire the 72 feet Sunseeker boat including an experienced captain and crew member by the day. This is an ideal opportunity to discover more of the beautiful Caribbean island of Antigua and the surrounding Caribbean Sea.
It is entirely up to the guests themselves which level of service they would prefer. Palm Point is still available without staff, in which case there would simply be a reduced daily maid service each morning.
"Fully-staffed villas are definitely the exception and not the rule on Antigua. The Palm Point solution provides complete flexibility for guests to decide just how much service they really want. The opportunity to hire the Sunseeker boat and crew is also a distinct advantage for a truly memorable Caribbean vacation," said Carl McBurnie, owner of CARIBIQUE.
About CARIBIQUE
CARIBIQUE Villa Rentals is owned and operated by CARIBIQUE Ltd., a company in the "Beautiful by Nature" Turks and Caicos Islands. Their user-friendly website offers almost 180 Caribbean villas in 17 of the most popular Caribbean destinations. For more information about listing a villa on the website or booking a Caribbean vacation, contact Carl McBurnie or visit http://www.caribiquevillarentals.com/.
We're not just unique, we're CARIBIQUE.