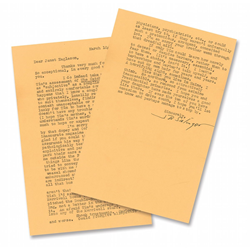 Three rare and unique pieces which will excite literature enthusiasts across the spectrum.
Lakewood, New Jersey (PRWEB) September 25, 2015
Antiquarian Archives has consigned three rare and unique pieces which will excite literature enthusiasts across the spectrum. They are a signed edition of Gravity's Rainbow by Thomas Pynchon, a typed letter signed by J.D. Salinger, author of Catcher in the Rye, and an autograph letter written and signed by J.R.R. Tolkien, author of The Lord of the Rings trilogy.
Thomas Pynchon and Gravity's Rainbow hold a place in the pantheon of modern literature, with the author as storied as the tale itself. Considered his greatest novel and the greatest American novel post World War II, Gravity's Rainbow received the National Book Award in 1974 and was selected for the Pulitzer Prize for Fiction.
Pynchon famously shuns any sort of public attention and is recursively reclusive; any autographic material from him is incredibly rare. He made an exception in this case for a young boy with lymphoma, as per a request from the child's father. Click here to view a copy of the letter (not being offered at this time) that accompanied the book. As an inscribed first edition of his most important work, this is undoubtedly one of the rarest and most sought-after pieces in all of literature.
Although there are a number of letters written by J.D. Salinger found in the Morgan Library, this typed letter signed with his rare full signature is unique in its revealing contents. Salinger comments on his seminal book, The Catcher in the Rye, and expresses his distaste for intrusive reporters who shadow him and his family. This is an exceptional piece of correspondence from the enigmatic writer, and the perfect combination of topics: his most famous work and his reclusive lifestyle.
Months before publication of "The Return of the King," J.R.R. Tolkien discusses his at efforts preparing it for press, as well as his surprise at his books' success, in a handwritten letter addressed to "Mrs. Dixey." He references "Hobbits," "Lord of the Rings," and "The Shire," as well as his expectations to publish his other, previously-rejected book "Legends of the First and Second Ages" (printed as The Silmarillion after his death). A valuable letter offering a firsthand publication history of one of the most influential literary works of the 20th century.
Click here to view these items on RR Auction's website. Pre-live bidding will continue until Sunday, September 27th, and will be followed by the live auction on Monday, September 28th, in Boston, MA.
About Antiquarian Archives:
Antiquarian Archives is a unique company with a passion for historically important and rare documents and books.
http://www.antiquarianarchives.com