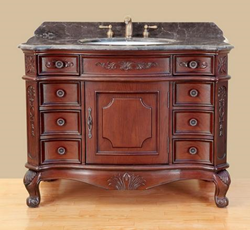 Mixing and matching cabinets and drawers makes for a surprisingly diverse array of vanity styles and storage options, and compartmentalizing the storage almost always makes it more efficient.
(PRWEB) October 21, 2013
HomeThangs.com – the Online Home Improvement Store, has made their goal to deliver the right product to the consumer. With that in mind, shopping and home design tips, as well as special product selections, are being introduced.
Antique bathroom vanities aren't particularly known for their storage capacity, especially in a smaller bathroom. But traditional bathroom vanities really shine in larger spaces, with an opulent look and feel and storage options that rival even the most savvy modern designs. HomeThangs.com has introduced a guide to the wide variety of storage options available on antique vanities over 40″.
In the standard 30-36″ inch range, there isn't a whole lot of wiggle room for innovation in traditional vanity designs, and a cursory glance at antique vanities in this smaller size bracket will reveal a whole lot of the same. The problem, ultimately, is that most traditional vanities have undermount sinks. That means the whole of the sink – and all of its plumbing – is beneath the vanity top, effectively barring any type of storage except a large cabinet. Anything above and beyond that width, though, is pure storage, and one of the most common options is to simply add a row of drawers on either side.
These drawers can be bigger or smaller, depending on the width of the vanity and the size of the cabinet (which can be as narrow as the sink), though above 48″ tends to edge into double vanity territory. That said, single antique vanities can run as large as up to 60″, and even with a standard sized cabinet, that makes for a whole lot of drawer storage, even with this relatively simple layout.
The designs only improve from there, including some less standard variations like swapping the cabinets and drawers. That is, placing the drawers in the center (and at either upper corner) and placing a much smaller cabinet at either side. This is a seemingly small change that has a surprising visual and practical impact. Because antique bathroom vanities in this style are a little less common, they feel fresh without breaking too far out of the traditional mold, and the storage is just that much more efficient.
Admittedly, the drawers will have to be slightly lowered (with one possibly U-shaped on the inside) to accommodate for the sink and plumbing, but not only does this allow for more drawer storage in a slightly smaller footprint, it also makes the cabinets more convenient, too. Their smaller size makes it harder to misplace items and easier to keep items organized and sorted.
Mixing and matching cabinets and drawers makes for a surprisingly diverse array of vanity styles and storage options, and compartmentalizing the storage almost always makes it more efficient. For those that strongly prefer drawer storage, consider getting a dresser style vanity. These are very distinct antique bathroom vanities that have either two, three, or four very large drawers and are designed to look like antique chests of drawers. Dresser style vanities with especially large drawers can even be used as linen cabinets.
Open shelf bathroom vanities are also a surprisingly storage smart option. These are typically wide enough to have two small drawers at either corner, and like more conventional antique bathroom vanities can either have a cabinet or drawers placed beneath the sink. But rather than having closed storage on either side, these have two or three simple, exposed shelves, which is a great way to show of decorative toiletries – like pretty soaps, natural sponges, or antique bottles.
To see more storage smart antique bathroom vanities, check out the full article here.
HomeThangs.com is not only a home improvement superstore, it also provides expert design tips and a comprehensive shopping guide, taking the ideas from professional interior designers, and offering tips to the consumers on how to pick the products to best suit their needs.