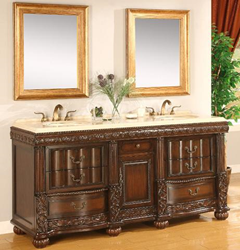 Figuring out what items are used the most often, what type of storage makes the most sense for those items, and picking a vanity that places that type of storage closest to the sinks practically guarantees a vanity that's easy and intuitive to use.
(PRWEB) October 30, 2013
HomeThangs.com – the Online Home Improvement Store has made their goal to deliver the right product to the consumer. With that in mind, shopping and home design tips, as well as special product selections are being introduced.
Often conversation about bathroom vanities revolves around maximizing storage in a small space. But those shopping for very large vanities, say 70″, 90″, or even larger, are left with an entirely different consideration: not how to get more storage, but how to prioritize it to make the most of the space. HomeThangs.com has introduced a guide to some of the available storage configurations for large antique double vanities, as well as a few tips for choosing the best one.
Prioritizing storage means not just thinking about the overall appearance of the vanity, but also the type and location of the various different sorts of storage. Shelves, cabinets, and drawers are all good for storing different types of items, and a very large double bathroom vanity shouldn't be lacking for any of them. But paying attention to how many of each, their size, and how easy they are to reach can go a long way to making the bathroom vanity more enjoyable to use.
For bathroom vanities in the 70" range, the standard, default configuration is to include two comfortably wide vanity cabinets underneath each of the sinks with a row of drawers marching down the middle. What this design does well is that in a master bathroom, it leaves plenty of room for the vanity to be used by two people at the same time, with enough distance between them so they won't be bumping elbows. The large cabinets provide separate storage for each person's bulky personal items, while the three or four drawers in the center can be shared.
Then there are double vanities that do exactly the opposite: place a column of drawers on either edge of the vanity, with a large communal cabinet in the middle between the two sinks. This type of setup is definitely rarer and a little more difficult to find, but in many cases is more efficient. Larger items – like toilet paper, cleaning products, soap refills, and so on – are more likely to be shared property, while smaller items, like a hairbrush or razor, are more personal. Having two sets of drawers not only means more storage space for the most-used items, but also more personal storage for each person using the vanity.
Go a little larger, and there are models that offer both: antique bathroom vanities with three sets of drawers, one on either end and one in the middle. Vanities are large enough for this configuration offer more storage than most people will use on a day to day basis, which is why prioritizing is so important. That is, figuring out what items are used the most often, what type of storage makes the most sense for those items, and finding a vanity that places that type of storage closest to the sinks, where it will be the most accessible.
Many large antique bathroom vanities hold this simple drawer-cabinet-drawer-cabinet-drawer layout, but there are more innovative designs out there, too, like vanities that replace the undersink cabinet with drawers and the drawers with smaller cabinets, ones that replace the drawers with shelves, and even vanities built entirely out of drawers, without any cabinets at all. Since the high quality wood finish and intricate, ornate wood carving are the markers of antique design, drawer, shelf, and cabinet placement won't look strange, no matter how unconventional the layout.
Finally, for anyone looking to buy very large bathroom vanities, especially anything in the over 90″ range, it's very much worth considering a modular design. The larger the vanity gets, the more cumbersome it is to move, but modular vanities are delivered in individual, freestanding pieces. Each one is roughly the size of a small vanity and can easily be moved through a standard door, but when all the pieces are pushed together, they form a seamless ornate bathroom vanity. Not only does this make installation easier, but it also offers a little more freedom, as the pieces can be assembled in almost any configuration.
To see more beautiful antique vanities, check out the full article here.
HomeThangs.com is not only a home improvement superstore, it also provides expert design tips and a comprehensive shopping guide, taking the ideas from professional interior designers, and offering tips to the consumers on how to pick the products to best suit their needs.