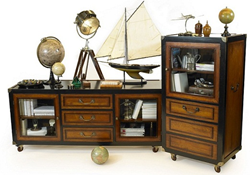 (PRWEB) May 29, 2014
Luxury home accents retailer WorldToHome.com has expanded its selection with all new products in some of their most popular categories. Mova globes, decorative mirrors, retro antique products, and unique designer lighting are just some of the many categories that have seen hundreds of new products added. With a greater selection than ever before, WorldToHome.com now boasts one of the most diverse collections of fine home decor online.
World To Home has added various types of globes, including wooden globe bars, decor globes, hanging globes, mova globes and more. Mova globes remain to be one of the most popular products WorldToHome.com has to offer. Available in a stunning range of designs and sizes, these solar rotating globes make the perfect gifts for any holiday, from Father's Day and graduation to birthdays and more. The new high gloss mova globes offer the same amazing solar cell powered movement of the classic models, but with a new glossy sheen that makes them even more radiant than before.
Antique products are a great way to add a nostalgic touch to any room. Antique products such as old phones, record players, jukeboxes, vintage world maps and more can be found in the featured antique products category. Now more popular than ever, antique telephones are blazing a path through the internet. There's nothing quite like having that old-fashioned feel in a home, and these retro antique phones are the perfect way to do just that. Available in a variety of designs, from various time periods, these fully functional antique telephones will bring an air of elegance and class to any home. Combine the past with the present by utilizing modern features on each phone, such as recorders, callback, and caller ID. Fusing the styles of yesterday with the technology of today has never been easier or more fun.
Summer's almost here, which means it's time to prepare for more parties! WorldToHome.com's selection of unique decor lighting is the perfect place to look for home lighting needs. They offer a humongous selection of strip lighting, chandeliers, unique home decor designer lamps, crystal lighting, branch lights, and much more. Nothing says stylish and new like new lighting in a home. New chandeliers or some unique lamp lighting are perfect for any home for hosting parties this summer season.
While looking for new lighting, WorldToHome.com's has a wide array of home decor rectangle decorative wall mirrors. Categorized in every way imaginable, from shape and size to color and style, it's easy and fun to navigate these products. No home is complete without a grand mirror in the hallway or restroom, and finding just the right decorative mirror is what WorldToHome.com does best.
About World To Home.com:
WorldToHome.com is the premier retailer of fine luxury home decor accents, accessories and furniture. With thousands of unique home decor accessories, World To Home brings the worlds home decor products to your doorstep. Featured products include Mova Globe, lighted willow branch lights, reproduction antique phones for sale, metal wine bottle wine caddies, birdhouse mansions, and more. For more information visit WorldToHome.com.