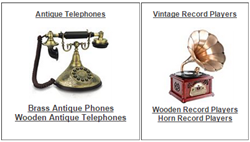 (PRWEB) February 28, 2015
Well-known online retailer WorldToHome.com remains a pinnacle of world-class home decor products and seeks to maintain its grandeur with new and exciting things to come. Known for their antique retro telephones and old-fashioned record players, World To Home seeks to continue a fine tradition of quality products by adding even more Hansa stuffed animals and wooden model ships to their already vast collection of home decorations, alongside new and exciting antique reproduction phones.
Antique telephones & vintage record players remind us of simpler times, when telephone and music technology was still a budding field and more time and craftsmanship went into producing each unit. Today, landline telephones & cell phones are mass produced hunks of metal and plastic with no real character. However, WorldToHome.com seeks to rectify this egregious error with their line of finely crafted reproduction antique phones for sale. Outfitted with all of today's greatest technology but maintaining the look and feel of the classics, these old-fashioned telephones are sure to be a hit. Selections include wooden antique telephones, brass, candlestick & Crosley vintage old phones. Vintage record players are also available in wooden, some with horn or portable antique record players.
Can't find that perfect gift for your little loved one? World To Home continues to be a retailer of the precious Hansa stuffed animals, which are world renowned for their quality of craftsmanship and accuracy to the original animal. Each stuffed animal is hand-sewn from the inside out to minimize seams, and each animal likeness is taken directly from real animal portraits to ensure the utmost in accuracy and quality. Possessing anywhere from forty-two to two hundred and forty parts, each animal is guaranteed to be a hit. Adored by children the world over, these Hansa animals will make the most ideal gift for any occasion.
Ever desired to have your own yacht, beautiful and sleek in the sunlight? WorldToHome's hand crafted wooden model ships now make it possible! Each ship is meticulously crafted to an exquisite level of detail, making it feel as though these miniature replica ships could actually be piloted on the water. Available in a variety of forms from modern yachts and cruise ships to viking long boats and great galleons of yore, these model ships are guaranteed to please. Display stands are also available to help set these amazing wooden ships apart and ensure they receive the attention they deserve.
About World To Home.com:
WorldToHome.com is the premier retailer of fine luxury home decor accents, accessories and furniture. With thousands of unique home decor accessories, World To Home brings the worlds home decor products to your doorstep. Featured products include Mova Globe, lighted willow branch lights, reproduction antique phones for sale, metal wine bottle wine caddies, birdhouse mansions, and more. For more information visit WorldToHome.com.