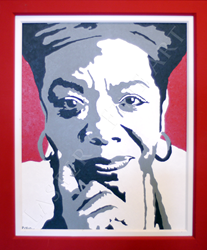 "We are honored to be the agents handling the estate of Dr. Maya Angelou," said Ryan Laster, manager of Laster's Fine Art & Antiques. "These items decorated her walls, her floors, her gardens… Each piece is special in its own way."
Winston Salem, NC (PRWEB) April 08, 2015
Laster's Fine Art & Antiques is proud to announce a once-in-a-lifetime opportunity to purchase from the treasured personal art collection of Dr. Maya Angelou. The sale will feature original works of art presented to Dr. Angelou by artists from all over the world. Laster's gallery in Winston-Salem, North Carolina will serve as the location of the sale. Items will be available for purchase beginning Friday, April 17.
Dr. Angelou published 36 books, seven of which were autobiographies, three books of essays and several books of poetry. She also worked on plays, movies and television shows spanning 50 years. She received dozens of awards and more than 50 honorary degrees and was the Reynolds Professor of American Studies at Wake Forest University for over 25 years. Dr. Angelou is best known for her series of seven autobiographies, which focus on her childhood and early adult experiences. The first, "I Know Why the Caged Bird Sings" (1969), tells of her life up to the age of 17 and brought her international recognition and acclaim.
"We are honored to be the agents handling the estate of Dr. Maya Angelou," said Ryan Laster, manager of Laster's Fine Art & Antiques. "These items decorated her walls, her floors, her gardens… Each piece is special in its own way."
Works by renowned artists such as Phoebe Beasley, Alonzo Adams, Synthia Saint James, John Willard Banks and Robert Gwathmey will be available for purchase. The collection is also teeming with original African-American paintings, prints and sculptures, many with inscriptions to Dr. Angelou.
A total of three sales will be handled by Laster's. The first being the sale in their gallery, the other two will be on-site estate tag sales where the contents inside the homes of Dr. Angelou will be offered to the public. Objects available will include furniture and other personal belongings.
About the company:
Laster's Fine Art & Antiques is a family-owned, high-end antique and fine art gallery located in Winston-Salem, North Carolina. Laster's buys and sells high-quality antique furniture, sterling silver and fine art from all over the world. Collectors and furniture lovers from all over come for Laster's hand-made, solid-wood furniture and antiques. The antique store has served the Piedmont Triad community and the world for over 40 years by providing a means to buy and sell quality merchandise. Customers love Laster's for the deals in furniture, antiques, paintings, sculptures, art and other fine household items at their gallery.