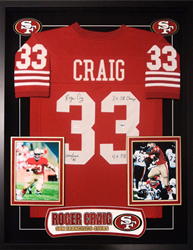 San Francisco, CA (PRWEB) May 20, 2014
Roger Craig was the 49th overall selection in the 1983 NFL Draft, taken in the second round from Nebraska, where he once held the record from longest run from scrimmage (94 yards, set during a 1981 game against Florida State University). In his rookie year in 1983, he scored a combined 12 touchdowns rushing and receiving, as the 49ers reached the NFC Championship game. Craig became well known in his rookie year for his distinctive high-knee running technique.
In Super Bowl XlX in January 1985, Craig rushed for 58 yards, catching seven passes for 77 yards. He became the first player ever to score three touchdown in a super Bowl during the 49ers 28-16 victory over the Miami Dolphins. Continuing through his career to win 3 Super Bowls with the 49ers.
Come meet Roger in person!
Please e-mail or call (415-421-8400) to place your order.
All online and phone orders must be received by Friday May 23rd, by 6pm PST.
**Must call by Friday May 23rdat 6pm PST to order: 415-421-8400**
Place An Order OR Bring Your Own Items To Be Signed!
$40 for your Flats (photos, magazines, newspapers, etc.)
$45 on your Mini-Helmet
$65 on your Footballs and Full-Size Helmets
$75 on your Jersey
$10 Personalization Fee ("To John", "To Mary", etc.)
$10 Inscription Fee ("3x SB Champ" etc.)amp", etc): $10
(Please select option # when ordering)
**Must call by Friday May 23rd at 6pm PST to order:
415-421-8400**