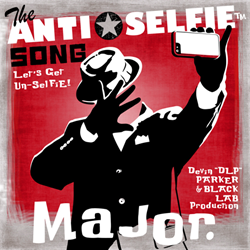 Get on board and join the #AntiSelfie Movement!
(PRWEB) May 29, 2014
"The Anti-Selfie Song" and Music Video, created, produced and released last Wednesday, 5/21/14, by Black Lab Production is now available on iTunes, Amazon and Google Play and is being distributed worldwide by Kobalt Music Group.
"The Anti-Selfie Song" and Music Video can be viewed on YouTube at this link: https://www.youtube.com/watch?v=nL42GNANhDk .
Please consider this as a music news feature or release.
With all the "selfie" talk going on, the "The Anti-Selfie Song" and Music Video is timely, entertaining and rings true to the masses.
While the idea to create an "anti-selfie" song and music video came to light because of the shared dislike for "selfies", when the writing and creating began, it took on a much deeper meaning.
Please note: "The Anti-Selfie Song" and Music Video is not a spoof of the "Selfie" song like the thousands of others out there. "The Anti-Selfie Song" and music video are original in creation and writing - both lyrics and music - with high-quality production.
Is the "selfie" phenomenon a new high or a new low in social media?
The Oxford Dictionary officially added the word "selfie".
Is the "selfie" vanity, self-discovery or just simply a digital self-portrait to let everyone see that one's still kickin' it?
The "selfie" seems a bit, well, selfie.
It's the "me" generation – the people that feel they need to photograph themselves and post them for the world to see, letting everyone know where they are and what they're doing every second of the day.
Enter the "anti-selfie". The "anti-selfie" is an evolution of the "selfie". Instead of showing the face, you hide the face.
An "anti-selfie" encourages people to pause, to put a vanity meter on and to remember that life is not just about "me", but more about "we".
An "anti-selfie" is a creative way to express oneself by blocking the face. An "anti-selfie" keeps a sense of mystery about the person. Instead of exposing the entire self, one is only exposing a part of him or herself, leaving his or her friends wanting to see more.
People seem to forget that once a photo is out there, it's out there for eternity. It's time to hide that face from that social space.
Get on board and join the Anti-Selfie Movement!
Having only been released last Wednesday, The Anti-Selfie Movement has already garnered an abundant amount of traction across YouTube, Facebook, Twitter and Instagram. Very exciting.
Again, please view The Anti-Selfie Song/music video at the YouTube link below.
https://www.youtube.com/watch?v=nL42GNANhDk
Official Anti-Selfie Page: http://anti-selfie.com
Anti-Selfie on Instagram: http://instagram.com/antiselfieofficial
Anti-Selfie on Twitter: http://twitter.com/anti_selfie
Anti-Selfie on Facebook: http://facebook.com/antiselfieofficial
#antiselfie
Paige Gillingwater
President/Executive Producer
Black Lab Production
10871 Washington Blvd.
Suite 103
Culver City, CA 90232
310-730-6620 (p)
310-730-6621 (f)
310-880-8067 (c)
paige(at)blacklabproduction(dot)com
http://www.blacklabproduction.com