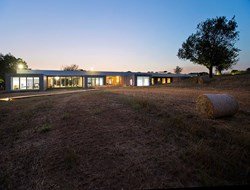 We are on a lot of 50 acres and grow our own produce, so it's very natural with a lot of fruit trees and fields. It's all about good food and well-being.
Berlin, Germany (PRWEB) October 31, 2013
5-star boutique hotel Antonello Colonna Resort, just outside of Rome, is Welcome Beyond's latest addition to its collection of unique vacation properties worldwide. The hotel's concept focuses on high level hospitality and organic gourmet food available around the clock. Much of the produce used in the kitchen are grown on Antonello Colonna's own 50 acres of surrounding countryside.
Design furniture, modern architecture and art exhibitions create the perfect contrast to the surrounding rural landscape with its colorful fruit trees and blooming fields. Antonello Colonna is an inspiring place to stay and to feel at home: "Because we treat the hotel like a house, our guests are not restricted to staying in their rooms but are free to move around all the spaces of the hotel, including the dining room, the garden, the restaurant, the library, or the art gallery", Antonello states.
Each of the 12 splendid rooms overlooks the beautiful garden through huge floor-to-ceiling windows. The 8 Deluxe Rooms have 40 sqm, whereas the 4 Grand Deluxe Rooms have remarkable 50 sqm. The hotel offers private access to the garden from each room as well as a rooftop pool, hammam massages, a Turkish bath, aromatherapy and a Finish sauna.
Cooking classes can also be arranged in case anyone wants to take home an Italian recipe. Before class starts, the chef takes the guests to local markets to shop for fresh ingredients.
Antonello Colonna Resort is only a 40 minute drive from Rome. Guided tours of the city, the charming town of Frascati or the local surroundings can easily be arranged on request. No matter if coming in winter when the various fireplaces heat up the hotel, or in summer when the surroundings call for afternoon strolls: Antonello Colonna Resort is a truly relaxing place with a twist of contemporary design and exceptionally good food.