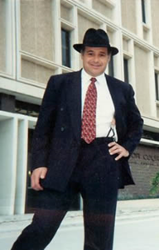 Ask not what your country can do for you, ask what you can do for your country.
Pomona, CA (PRWEB) June 27, 2015
John Fitzgerald Kennedy once said, "Ask not what your country can do for you, ask what you can do for your country," and on July Fourth, Attorney Antonio J. Bestard will do his part for his country, by presenting a fireworks spectacular, in conjunction with Pyro Spectaculars, Inc.
Bestard, who also presented the 2002 Winter Olympics, and multiple other high profile shows, went on to reveal that this year's Fourth of July show will feature more than 7,000 effects over a period of 22-29 minutes. "I'm really excited about the show," said Bestard, a criminal defense attorney by day, who sets off fireworks at night. The sky is my canvas."
Attorney Bestard's extensive experience includes over 165 shows throughout the years. He not only uses his legal expertise for the planning of the shows, by crossing all of the t's and dotting the i's, but he runs the firework event itself. He is a licensed pyrotechnician, and was behind the Rose Bowl for 10 years. He also started working on the World Cup in 1994.
Bestard pointed out that the company that he partners with, Pyro Spectaculars, Inc., is a tremendous asset for the event. Pyro Spectaculars by Souza employs almost fifty full time people in California as part of its corporate staff. In addition, Pyro Spectaculars retains more than two thousand licensed pyrotechnic operators, entertainers, technicians and other support people during the Fourth of July season.
Antonio Bestard has appeared at all levels of the juvenile, state and Federal court systems on behalf of California clients, facing major felony and misdemeanor criminal charges. He is a skilled negotiator, who is able to fully and thoroughly investigate each case to ensure that his client's legal rights have been upheld at all times.
###
About Antonio J. Bestard Attorney At Law
Southern California area criminal defense attorney Antonio J. Bestard is a board-certified Criminal Law Specialist with over 35 years of experience representing clients charged with all types of serious state and federal felony crimes. For more information, ccall (909) 623-2629 or visit: http://www.drcrime.com/. The law office is located at 101 West Mission Boulevard #218B, Pomona, CA 91766.
About NALA™
The NALA offers local business owners new online advertising & small business marketing tools, great business benefits, education and money-saving programs, as well as a charity program.
Media Contact:
Tiffani Tendell
news(at)thenala(dot)com
805.650.6121, ext. 361