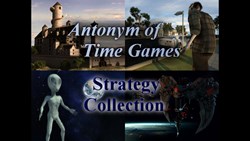 By combining four titles into one project, we can offer a great value as it cuts the per title development costs by around 30-40%.
Fort Lee, NJ (PRWEB) September 06, 2013
They've said PC games are dead. They've said turn-based strategy is dead. With a new Kickstarter project, Antonym of Time Games aims to turn back the clock and raise the dead, both figuratively and literally. In the spirit of such games as Master of Magic, Civilization, Master of Orion, X-Com, and Fallout, the strategy collection offers a rich single player and multiplayer experience in the sci-fi, fantasy, and survival horror genres.
In a bold move, the project offers four full fledged game titles - Archmagus, Xenostar, The Invasion, and Zombie Earth - and up to four additional games as stretch goal bonuses. Archmagus casts you in the role of a powerful warlock, training apprentices and building improvements while striving for world domination. Xenostar is a space conquest game featuring customization of units and meaningful diplomatic options. The Invasion gives you command of an alien force seeking to control the Earth, with gameplay described as "X-Com from the other side". Zombie Earth places you at the start of the zombie apocalypse, rescuing survivors, scavenging for supplies, and struggling to survive after the fall of civilization.
These are not casual or micro-games, and most of the funding will go into producing high definition object and character models with animations, such as the Gryphon seen in the Kickstarter video. At $500k, the basic funding goal may seem relatively high, however, it is only $125k per title, which is substantially less than projects like Double Fine Adventure, Wasteland 2, and Shroud of the Avatar. With a multi-title project, overhead is distributed and development can be shifted between titles to alleviate costly bottlenecks. "By combining four titles into one project, we can offer a great value as it cuts the per title development costs by around 30-40%," say co-founder Alann Lumbreyer. The collection offers more to backers for less, while giving the developer flexibility to manage work flows across four games.
In choosing Kickstarter instead of seeking traditional funding, Antonym of Time Games is embracing the potential for backer involvement in the project. All of the backers are going to be invited to participate in the development process and provide input on design decisions as the development progresses. Backer rewards offered at different funding tiers include in-game naming rights, designing custom creatures, ships, scenarios, and even adding gameplay features. Fans of strategy and tactical games have an opportunity to get out their wishlists and have their voices heard by becoming backers of the strategy collection on Kickstarter at http://kck.st/17cj29J before the campaign ends on Oct 4th, 2013.
About Antonym of Time Games LLC
Antonym of Time Games LLC is an independent game development company based in New Jersey. It was co-founded in January 2013 by two brothers with extensive experience in professional software development and a lifelong enthusiasm for games. For more information, visit http://www.antonymoftimegames.com.