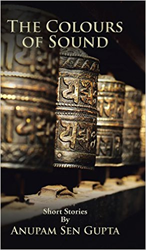 NEW DELHI, India (PRWEB) July 07, 2015
Colorful tales of sacrifice, downfalls and victories are revealed through the pages of author Anupam Sen Gupta's collection of short stories, "The Colours of Sound" (published by Partridge India). It is a cornucopia of fictionalized real-life encounters that define the very essence of experience as the best teacher of life.
From the hard truth of rejection for following one's heart and breaking conventions to locating stargates and experiencing the unknown, Gupta's book captures dimensions of contemporary urban lifestyles to the oppression of the lower caste in remote India. Each of the ten stories leaves profound messages that encourage readers to embark on their own journeys of self-reflection. Squarely portraying the vulnerable duality of humanness, with its flaws and values, the characters should appeal to many who are or have been in the same dilemmas.
An excerpt from " The Colours of Sound":
"'And come to think of it, people of all religion, caste, and creed come to brothels. It's probably the only place where there is no communal intolerance. People of all religion sleep with each other. One to satisfy the hunger above the waistline and other to satisfy hunger below the waistline,' added Ada."
Thought provoking and insightful, "The Colours of Sound" is an enriching read infused with interesting twists, richly drawn characters and meaningful life lessons.
"The Colours of Sound"
By Anupam Sen Gupta
Hardcover | 5x8in | 152 pages | ISBN 9781482841008
Softcover | 5x8in | 152 pages | ISBN 9781482841015
E-Book | 152 pages | ISBN 9781482840995
Available at Amazon and Barnes & Noble
About the Author
Anupam Sen Gupta was born in a tea gardening and a maritime family in 1968 with paternal roots in Darjeeling. He left home at the age of 29, a successful career in maritime business and his hometown, Kolkata, to pursue his dreams in the world of creative arts. He is a music producer and has played guitar since 1980. He is a well-known acoustic blues musician in the circuit. Gupta has been in the top of the charts in India under Great Indian Rock with his band and has produced music for over 50 short films, animation films, documentaries, albums and a feature film. He has been writing since his childhood and in the past decade and a half, has professionally written content for an international portal and various magazines. Gupta runs an organization that offers creative tools and processes to trigger cultural change in organizations and is in the Limca Book of Records in India. His modules have been covered as international case studies in Europe. He has conducted workshops for over 300 international blue chip companies in India and the Far East. His quest for life has taken him across the Himalayas where he practiced and experimented with monkhood for over a year and a half in the 90s to Abydos in interior Egypt in search of mystery. He is trained in innovation and change; leadership development through emotional intelligence; is a certified life coach and practices the development of mid brain using sound. He is a recipient of Rex Karmaveer Global Fellowship and Editor's Choice Award. He is also a speaker on creativity and innovation and has spoken at B Schools in India and Singapore, at human resource forums and schools. He lives in New Delhi with his daughter, wife and mother.
Partridge India is a supported self-publishing imprint from Author Solutions LLC. Author Solutions has helped more than 180,000 authors publish over 225,000 titles across the globe and is a stand-alone company within the Penguin Random House Group. Author Solutions operates independently and powers Partridge along with several other self-publishing imprints. For more information or to publish a book, visit partridgepublishing.com/india or call 000.800.10062.62. For the latest, follow @PartridgeIndia on Twitter.