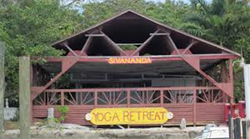 Wonderful experience. Eased my anxiety from years.
San Juan, Puerto Rico (PRWEB) March 05, 2014
During this workshop, students will acquire yogic wisdom related to depression and anxiety and get a better understanding on the workings of the mind. Participants will also be taught specific asanas and breathing practices, dietary guidelines, and other yogic techniques to ease and relieve depression and anxiety.
For more information, please visit: http://sivanandabahamas.org/course.php?course_id=3996.
Known as one of the leading causes of disability among people ages 15 to 44, depression and anxiety can hold one back or become a precious turning point in the life's journey. They can become one's teacher, inviting one to change the perspective on life. Yoga ignites such a shift in perspective.
This program is part of the Yoga Vacation Program.
The Yoga Vacation Program offers the perfect balance between activity and leisure time. Enjoy daily yoga classes and silent meditation sessions. Expand the horizons with mid-day workshops and inspiring evening talks. Discover healing session or a private yoga class. Take quality time alone or connect with others.
At any time of the year, students are welcome to come and enjoy a program rich with lectures by world renowned speakers, daily yoga classes, delicious vegetarian meals, snorkeling, and plenty of time to relax in a tropical paradise.
Guests can choose from a variety of lodging options to suit their personal needs while enjoying all the learning opportunities available at the ashram.
During your stay, the Ashram allows you discover how the powerful tools of yoga can be in personal evolution, helping you to live in constant peace with yourself, humanity, and nature.
Based on five simple principles, the Yoga Vacation Program offers the ideal way to take a break from your everyday life. Whether the person is new to yoga or a well-established practitioner, a Yoga Vacation will help quickly find the way back to balance.
Located across the bay from Nassau, on one of the finest beaches in the world, the Sivananda Ashram Yoga Retreat is an island paradise with a tropical garden, crystal clear water and pure white sands - a true sanctuary of peace and natural beauty. Recognized among world Yoga Retreats, the ashram offers year-round programs presented by world renowned speakers, as well as certification courses on various yoga related topics through which you can expand your knowledge, gain a new skill and get certified while enjoying a joyous yoga practice and blissful relaxation. The Yoga retreat center also offers year-round Yoga teacher training programs, Ayurvedic Yoga Therapy Courses, Yoga for beginners, Yoga vacations and many other courses.
For more information, please visit http://www.sivanandabahamas.org.