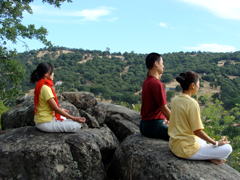 A must for any student who wants to let go of anxiety and stress.
Los Angeles, California (PRWEB) April 18, 2014
Stress has been determined to be the #1 cause of all illness and disease. During these turbulent times the stress level is at an all time high. At the same time many people realize that simply trying to "medicate" the stress away is not only ineffective long term but has serious side affects. There is an alternative. Working in alliance with the mind, body and breath, one can learn to not only effectively reduce or eliminate stress, one can actually achieve a deep sense of peace and well being that they may have not even known was possible. The course is based on the time tested practice of yogic principles that have proved to be highly effective and easy to learn regardless of a persons experience in yoga. This special course in the Yoga Farm invites students to experience the joy of a life free from unnecessary stress and anxiety.
Daily Schedule
6-8 a.m. Satsang: Silent meditation, chanting and lecture
8-10 a.m. Yoga Class
10 a.m. Brunch
11 a.m. Karma Yoga
1-3 p.m. Stress Relief Workshop
3-4 p.m. Free Time and Nature walks
4-6 p.m. Yoga Class
6 p.m. Dinner
7-8 p.m. Free Time
8-10 p.m. Satsang: meditation, chanting and lecture
Pre-requisite
There are no prerequisites other than a sincere desire to learn classical yoga.
The Yoga Farm also hosts a Yoga Nidra course, courses on Yogic philosophy, Yoga for back pain and ayurvedic retreats, and an advanced teacher's training course (ATTC). The Advanced Yoga Teacher's Training Course helps graduates to deepen their spiritual practice and their study of Hatha yoga, Vedanta philosophy, Raja yoga, anatomy and Sanskrit. The advanced class gives students an additional chance to practice under guidance in a supportive atmosphere, which provides many with a boost of energy and clarity.
About Sivananda Ashram Yoga Farm
In 1971, Swami Vishnudevananda returned to California and founded the third ashram in the young Sivananda International organization: the Sivananda Ashram Yoga Farm on 40 acres of land located in the Gold Country of the beautiful Sierra Nevada Foothills in Northern California. The non-profit, non-sectarian ashram offers yoga classes, retreats and teacher training courses for students of all abilities. For more information, please visit http://www.sivanandayogafarm.org.