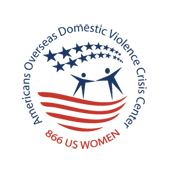 Portland, Oregon (PRWEB) February 25, 2014
In the shadow of this terrible tragedy, AODVC sends their condolences to the family of Erin Willinger and wants to remind all American women traveling and living overseas who are experiencing domestic violence, or become victims of sexual assault, that there is help 24 hours a day, seven days a week by calling AODVC internationally toll free from 175 countries. First dial the AT&T USA DirectAccess Code for the foreign country at: http://www.att.com/esupport/traveler.jsp?group=features, then dial 866-USWOMEN. AODVC also operates a crisis email, crisis(at)866uswomen(dot)org and live chat Monday-Friday, 9 a.m. – 5 p.m. Pacific Time.
"We are doing our best to raise awareness of our global program to American women traveling and living in foreign countries so they know they have someone to call confidentially for help if they are experiencing domestic violence or sexual assault overseas," explains Paula Lucas, Founder & Executive Director. "Our advocates and case managers provide compassionate, informed response to victims while helping them navigate complicated international landscapes to help keep safe."
About AODVC
AODVC serves the 7.6 million American civilians residing overseas, the 65 million Americans that travel overseas annually, and the 1.1 million American military & their dependents overseas. AODVC staff provides safety planning, long term intensive case management, danger to safety relocation, legal services, counseling and emergency needs including housing, rent and utilities.
In 2012, AODVC launched the Sexual Assault Support & Help For Americans Abroad Program, SASHAA.
The program was founded by Paula Lucas in 1999 after she escaped a foreign country back home to the USA with her three sons to flee domestic violence and child abuse. Paula's memoir, Harvesting Stones, An American Woman's International Journey Of Survival, recounts her arduous journey. http://www.harvestingstonesbook.com
More than 5000 American women and children, and dozens of American men, in 110 foreign countries have received life-saving services from the program.