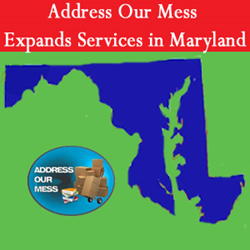 Address Our Mess can help in the resolution in any major cleaning situation.
Baltimore, MD (PRWEB) April 30, 2015
Address Our Mess has gone a rapid expansion recently in the amount of offices that it has opened up and down the east coast. However, they have recently undergone a program of adding new professional cleaning services to give other clients and target markets a potential service to use. These clients prefer to remain anonymous according to staff from Address Our Mess. As Address Our Mess has discovered recently much of their staff already knows the proper procedures to do other projects in the different areas of the cleaning industry.
The services that are Maryland clientele are inquiring on, are similar services that Address Our Mess already currently offers. Our clutter removal service can be utilized for a number of other reasons, rather than just for the removal of clutter. Clutter removal requires specialized methodology, but due to market research by the Address Our Mess team it has been found that it can be utilized for other services that can be done in the Maryland areas. This can be said for Address Our Mess's heavy duty cleaning processes.
Address Our Mess's heavy duty house cleaning process can be used by a number of other industries besides the deep cleaning of a cluttered or hoarding home. The heavy duty cleaning process entails a thorough cleaning of the home from floor to ceiling. This is to ensure that the home is in sanitary condition for the individual to come back too. Also, a deep cleaning sanitizes the area that needs it the most in many cases, which are the bathroom and kitchen areas of the home. There are other areas as well that this company is expanding as well in helping of family's and other groups with cleaning needs.
Families and other groups are asking for other cleaning services that Address Our Mess has never expected to get into. This Maryland based company is more than willing to take them on in order to expand its operations to better service those who need help. When looking to help with specialty cleaning situations Address Our Mess can help in handling any number of situations throughout Maryland.
Address Our Mess can help in the resolution in any major cleaning situation. With professional staff that have gone through rigorous training, it can be assured that the properties that need their services will be cleaned effectively. Many of their crew members have been involved in the specialty cleaning industry for over decade and can take on any number of tasks. This Maryland based company can tackle any specialty cleaning project and with the additional services it can provide more services to those that need it.