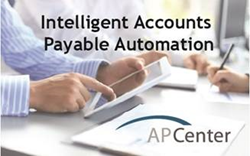 Invoice processing is a challenge for many companies. We are excited to add this valued set of AP automation tools to assist our readers and consultants in the ERP enhancement process! Adrian Montgomery, Partner ERPVAR
Dana Point, CA (PRWEB) June 28, 2016
ERPVAR.com, ERP consultant network, announced today the formation of a strategic collaboration with premier AP automation provider, ICM Document Management Solutions. ERPVAR and ICM Document Management solutions will educate ERP software users about critical time and money saving tools to automate the accounts payable process.
ERPVAR.com and ICM Document Management Solutions will offer a three-part webinar series dedicated to educating ERP software end users regarding tactics to automate accounts payable and streamline AP business processes. The first webinar will be presented on Thursday, July 21 at 10 AM. The title is "AP Automation: What is the Average Cost to Process an Invoice? (Shhhhh, it's probably more than you think!)" The one hour webinar with be held on Thursday, July 21, 2016 at 10 AM Pacific Time, 1 PM Eastern Time.
AP Managers or professionals responsible for Accounts Payable or Procure-To-Pay processes do not want to miss this webinar. Processing invoices can become an overwhelming expense for larger companies. Most ERP software manage the standard invoice processing steps. The non-standard items such as delays, missed discounts, inability to apply best payment terms, and duplicate invoices are what drive up invoice processing costs.
This webinar will explore:

Invoice capture methods
Data field capture, indexing and authorization routing
Automated GL code assignment or tool-enabled manual assignment
Final approval workflows: user-driven, header level data driven, or GL coding driven
AP exception routing for non-conforming invoices
Register for the event by clicking here: AP Automation: What is the Average Cost to Process an Invoice?
About ERP VAR
Established in 2012 and headquartered in Orange County, CA, ERP VAR represents the collective expertise of Sage 50 (formerly Peachtree), Sage 100 ERP (formerly MAS90 and MAS 200), Sage 500 ERP (formerly MAS 500), Sage ERP X3, Epicor, Microsoft Dynamics GP, NetSuite, Intacct, Infor, Acumatica and QuickBooks Enterprise third party developers combined with the expertise of local implementation ERP consultants. These local ERP consultants provide end users with a thorough needs analysis to determine which ERP software functionality is required to address their unique needs. If a business process assessment is required, the local channel partner is enlisted to provide a comprehensive examination with end user company departments to insure the correct ERP software is selected implemented and the staff is properly trained. For more information, please visit http://erpvar.com.
About ICM Document Solutions
ICM Document Solutions helps businesses, in the United States and internationally, meet compliance requirements and improve efficiency. Our clients include government agencies at all levels, law enforcement agencies, educational institutions, non-profit organizations, and private sector companies including Fortune 500 corporations. We have worked with hundreds of businesses to hear their problems, understand the challenges, create a plan, develop an answer, and implement a solution. We deliver secure, affordable, and complete business automation solutions such as the following best-in-class products and services, complete document and content management software, intelligent accounts payable automation, Web portal information software, Scanning services including paper documents and film scanning, Custom software and application development services, system integrations, and data conversions/migrations http://www.icmdocs.com.