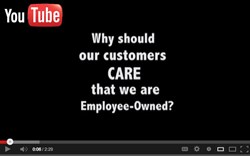 This video is a great testament to how Apache has embraced employee-ownership
Beaver Dam, Wisconsin (PRWEB) October 01, 2013
As part of a sales and marketing initiative to communicate the value of employe-ownership to customers, Apache Stainless Equipment Corporation created a video entitled, "Why Should Customers Care that We Are Employee-Owned?" The short film, featuring employee interviews, conveys the benefts of accountability, safety buy-in, pride-in-ownership, process control and teamwork at the employee-owned company.
The company, based out of Beaver Dam, Wisconsin is a manufacturer of stainless and other high alloy products. Apache has five business groups, including: ASME tanks, portable vessels, carbon steel products, contract manufacturing and Mepaco (food processing equipment.)
"This video is a great testament to how Apache has embraced employee-ownership. Our employees get it and the video delivers a valuable message to customers," states Ed Paradowski, President of Apache Stainless Equipment Corporation.
The video is now playing on Apache's new YouTube channel, on company blogs, and it is currently playing on the reception monitor for visitors to see.
A subsidiary of Dexter Apache Holdings, Inc., Apache has been employee-owned since 2006. Our ownership culture empowers employee-owners to work efficiently and be very service-oriented. In the words by Tracey Stiemsma from the video, the quality and efficiency of our work "benefits all of our tomorrows.