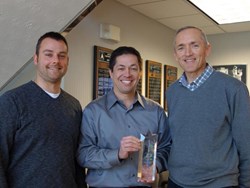 Our manufacturing employees have done a great job with only six OSHA recordable injuries in 2013.
Beaver Dam, WI (PRWEB) February 11, 2014
Apache Stainless Equipment Corporation was recently presented the 2013 Safety Excellence Award given by Dexter – Apache Holdings, Inc. Dexter-Apache is Apache's Iowa based, employee owned holding company that manages seven diverse companies with interests in manufacturing, financial services and distribution.
Dexter-Apache started the awards program four years ago. Each year the Dexter – Apache companies compete for the fewest OSHA recordable injuries. Apache has won the award in 2010 and also in 2013.
Apache manufactures tanks and food processing equipment using heavy gauge steel. Chad Prieve, Apache's Safety Director, says the biggest hazards are lacerations from the handling of metal and sprains and strains in material handling. Eye injuries are also a risk due to airborne matter in a manufacturing environment. According to Prieve, "Considering the potential risks, our manufacturing employees have done a great job with only six recordable OSHA injuries in 2013."
In addition to mandated procedures and required personal protective gear, Prieve works with Apache's management to offer special incentives to promote the safety program. These incentives involve monthly cash rewards for employees when the entire plant goes injury free and yearly cash rewards for employees with a perfect safety record.
Prieve adds, "Since we became an employee-owned company in 2007, we have improved our safety record overall. We emphasize that safety is a value and we are creating a culture where employees believe in zero injuries. Our safety motto is to practice LIFE which stands for Living Injury Free Everyday."
Founded in 1975, Apache Stainless Equipment Corporation consists of five groups: Large Tanks, Small Vessels, Contract Manufacturing, Carbon Steel and Mepaco. The Mepaco group manufactures food-processing equipment. Apache is an employee-owned company and a subsidiary of Dexter Apache Holdings, Inc.