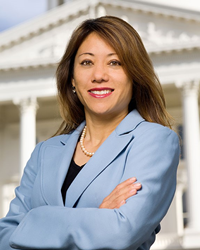 "We are very pleased to have the continued support for these outstanding legislative meetings by members such as Optimum Seismic," says Earle Vaughan AAGLA president.
LOS ANGELES (PRWEB) July 16, 2019
Optimum Seismic Chief Operating Officer Ali Sahabi will be among rental housing industry leaders attending a legislative breakfast with California State Treasurer Fiona Ma on July 20. The annual event will be sponsored by the Apartment Association of Greater Los Angeles.
"We are glad to be able to support such events to make it possible for association members to meet the legislators," says Sahabi, a leader in seismic resiliency and sustainability. "Installing earthquake retrofits on apartment and commercial buildings is key to keeping residents and businesses safe in communities throughout California."
"We are very pleased to have the continued support for these outstanding legislative meetings by members such as Optimum Seismic," says Earle Vaughan AAGLA president. "These opportunities for face-to-face discussion with legislative leaders are a great benefit for our members."
"All AAGLA members are encouraged to take advantage of this opportunity to obtain the latest information on Sacramento's plans for dealing with issues which are important to the rental housing industry," says Dan Yukelson, Executive director AAGLA.
Elected California's 34th State Treasurer in November 2018 with more votes than any other candidate for treasurer in the state's history, Ma is the first woman of color and the first woman Certified Public Accountant elected to this position.
The State Treasurer's Office provides financing for schools, roads, housing, recycling and waste management, hospitals, public facilities, and other infrastructure projects that better the lives of California's residents. California is the world's fifth-largest economy and, as the state treasurer, Treasurer Ma is, in effect, the state's primary banker. The Treasurer works closely with the State Legislature to ensure members know the state's financial condition as they consider legislation, and gives recommendations for the annual budget.
Prior to becoming State Treasurer, Ms. Ma was a member of the California Board of Equalization from 2015 to 2019. She was a member of the State Assembly from 2006 to 2012, serving as Speaker pro Tempore from 2010 to 2012. As a member of the State Assembly, she built a reputation as a solution-oriented public servant and was adept at building unlikely coalitions to overcome California's most complex problems. Prior to serving as Speaker pro Tempore, she was Assembly Majority Whip and built coalitions during a state budget crisis to pass groundbreaking legislation that protected public education and the environment and expanded access to health care.
While on the San Francisco Board of Supervisors from 2002 to 2006, Ms. Ma championed a human rights campaign to end human trafficking in massage parlors and close prostitution rings. She also led an effort to create a Disadvantaged Business Enterprise program to enable small businesses to more easily participate in public works projects.
Treasurer Ma has been a licensed Certified Public Accountant in California since 1992 and holds a bachelor's degree in Accounting from the Rochester Institute of Technology (New York), a master's degree in Taxation from Golden Gate University (San Francisco), and a Master of Business Administration from Pepperdine University.
About Optimum Seismic, Inc.
Since 1984, the team at Optimum Seismic (State License #1012702) has been making California cities safer, performing full-service seismic retrofit engineering & construction services on multifamily residential, commercial and industrial buildings throughout the state. To date, Optimum Seismic's licensed, bonded and insured engineering and construction experts have completed over 3,000 earthquake retrofits.