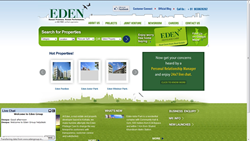 The Eden Group was founded by Late Shri Bansidhar Modi who came to Assam from Rajasthan to start a business in this part of the country.
Kolkata, India (PRWEB) October 07, 2014
A 20-year-old corporate group with a visionary founder who carved the path to its success, the Eden Group has the best properties in Kolkata for sale. This reputed corporate group is also a leader in other fields such as tea production, textile manufacturing and information technology. Customers who want to buy a home that has all the amenities and facilities, which are modern and technologically advanced should opt for the Eden Group's real estate offerings in Kolkata.
Kolkata is the top choice for real estate buyers right now and the Eden Group's executive explains why this company's apartment complexes are the best option for those who value quality. "The Eden Group was founded by Late Shri Bansidhar Modi who came to Assam from Rajasthan to start a business in this part of the country. His vision inspired and guided us to come up with the best in all of our offerings. We emphasize on quality that is built to last. Our apartment complexes in Kolkata are known for their stability and excellent construction standards. We put the safety and security of our buyers first and foremost, before any other consideration. For us, customer satisfaction is the top goal which guides us. Inspired by the vision of our founder and his son and successor, Late Shri Badridass Modi, we are oriented towards providing high quality dwellings at affordable rates for all our buyers. Whether you are a student, a career oriented individual, a busy professional or a senior person with a large family, our accommodation can suit every one's needs."
The Eden Group is the best choice for accessing real estate property that gives clients the privilege of living in comfort and stability. Consider the excellent properties being sold by this well established real estate firm. One of the many magnificent and aesthetically pleasing projects at present under this corporate conglomerate is Eden Pavilion. Located at a convenient point of 500 meters from the E. M. Bypass and within one kilometer (walking distance) from the Shahid Khudiram Metro/Birji Metro, this project is known for its hallmark of excellence, elegance and comfort. Decent accommodation at prices that can be afforded by young working professionals or retired individuals are another positive aspect of the properties being sold by the Eden Group.
The executive further adds, "To be the best in the industry, a company has to have dedication, commitment, sincerity, integrity, reliability and values. Based on the value systems and commitment to excellence with which our founder established this corporate group, we firmly believe in providing the best real estate projects to all our customers, because products will only find takers if they are the best. We are committed to earning our reputation for being the leader in the industry through hard work, perseverance and diligence. With the same attitude and dedication towards work and key business values as our founders, our management and staff is committed to providing luxurious and ergonomically designed accommodation using the best equipment and talented professionals."
If customers are looking for new apartments in Kolkata, the Eden Group is the best choice. With a diverse range of apartment complexes and projects on sale, this premier corporate conglomerate which specializes in real estate and other areas is the best choice. Affordable pricing, top quality construction, aesthetically pleasing designs, quality that never compromises and style that is forever elegant are at the forefront of real estate projects at the Eden Group. With talented work staff and customer care to meet any and every requirement of buyers, the Eden Group is the ideal option for those who are looking for property for sale in Kolkata.
About the Company
The top real estate company in Kolkata, the Eden Group was established under the vision and guidance of its founders. Over the past 2 decades, this corporate group has expanded into many fields such as textile manufacturing, real estate and IT. The best Assam tea and only the top quality real estate projects and IT solutions are the hallmark of this reputed company. With real estate solutions (like 3 BHK and 2 BHK flats in Kolkata based on meticulously intricate planning and attention to even the smallest architectural details, the Eden Group is associated with stellar real estate projects that never compromise on either affordability or top quality.
Contact Details:
6C Elgin Road
4th Floor, Oriental House
(Near Bhowanipore College)
Kolkata 700020
Phone: +91 33 4003 4784 / 2280 5464
Email - info(at)edengroup(dot)in
Website: http://www.edengroup.in/
###