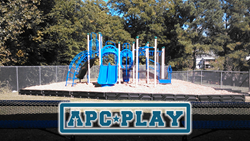 Schools like Centra Rivermont understand the therapeutic and educational value of providing quality commercial playground equipment.
(PRWEB) November 28, 2014
Schools like Centra Rivermont understand the therapeutic and educational value of providing quality commercial playground equipment to its students. That is why the Virginia school selected APCPLAY© to supply an affordable play structure at its mental health services facility in Chase City.
Centra provides comprehensive programs for children who are identified as needing additional educational and emotional support services. They have served the needs of children with severe emotional and behavioral disabilities since 1986, with ten locations in the State of Virginia.
The special education program offered by Centra Rivermont provides support to children aged five to twenty-two years who have demonstrated difficulty learning in mainstream school environments. The curriculum is designed to give children adaptive models and self-management tools to help them successfully integrate back into the standard school system with their peers.
Outdoor play is essential to the healthy growth and development of children. Not only does playground time benefit children by providing physical fitness, it also develops essential social skills through group play, and cognitive benefits such as critical thinking and problem solving skills.
By adding a new playground to its Chase City, Virginia school, Centra Rivermont School has continued its commitment to improving the lives of its students with the therapeutic benefit of fun, engaging, and entertaining outdoor play available via the Walnut Ridge play structure from APCPLAY. The Walnut Ridge commercial playground equipment includes:

Three slides for racing side by side or independent classic fun.
Many fitness improving opportunities with a Deep Rung Arch Climber, a Chain Climbing Wall and a 90® Tri-Run Horizontal Ladder.
A 10' long Track Ride for a fast and exciting zipline style experience.
A fun Fireman's Pole.
An ADA transfer station with hand-hold to provide access for children with mobility needs.
With the new Walnut Ridge commercial playground structure installed, students will now be able to enjoy independent play or group activities, and create new memories and friendships.
----------------------------------------------------------------------------
About APCPLAY
APCPLAY is based in McKinney—a suburb north of Dallas, Texas—and is a nationwide provider and installer of commercial playground equipment. They serve schools, churches, daycare facilities, homeowner associations, multi-family communities, and other organizations with affordable play structures, site furnishings, athletic equipment, and pre-fab shades and shelters, along with turn-key installation.
APCPLAY has over 25 years experience offering planning services, custom design, and an extensive array of park and playground products. They're committed to top-notch customer service and complete purchase satisfaction.
For general information on APCPLAY, please call 1-888-401-6446 or visit http://www.apcplay.com.
For media inquires, contact Marc Parker – Vice President of Marketing and Operations – sm@apcplay.com.
Mailing Address: 225 E. Virginia Street, Suite 2, McKinney, Texas 75069.