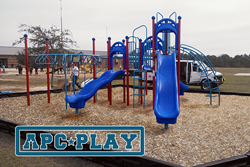 APCPLAY works hard to ensure the perfect playground fit for customers.
Swansea, SC (PRWEB) February 25, 2015
The Sandhills Elementary School (SES) boasts that they are "shaping every student for success," according to their motto. The South Carolina elementary school prides itself on a rich curriculum that engages learning and development, while fostering a nurturing community environment for kids.
The administration at Sandhills Elementary School selected the "Walnut Ridge" play structure from APCPLAY to augment their existing outdoor recreational equipment for students. The play structure is suitable for children aged 5-12 years and provides engaging activities for up to twenty-six children at a time.
Kids love the wave slide, which provides fun dips and dives but a smooth slide to the bottom, thanks to the rotationally molded comfort design. The Deep Rung Arch Climber helps children work upper arm and lower leg muscles. The 90° Tri-Rung Horizontal Ladder is a challenging climb, while the Track Ride sparks imaginative play.
The school requested a modification to the play structure and the Chain Climbing Wall feature was removed. APCPLAY works hard to ensure the perfect playground fit for customers. Any structure can be modified to include or exclude certain activities, and they were happy to fulfill the playground modification request. The children at SES are now enjoying enhanced recess play time and adventure.
About APCPLAY
APCPLAY is based in McKinney, a suburb north of Dallas, Texas, and is a nationwide provider and installer of commercial playground equipment. They serve schools, churches, daycare facilities, homeowner associations, municipalities, and community parks with high-quality, long-lasting play structures, site furnishings, athletic equipment, and pre-fab shades and shelters, along with turn-key installation.
APCPLAY has over 25 years of experience offering planning services, custom design, and an extensive array of park and playground products. They're committed to top-notch customer service and complete purchase satisfaction.
For general information on APCPLAY, please call 1-888-401-6446 or visit http://www.apcplay.com