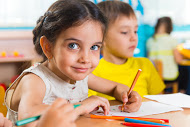 "Intelligence plus character - that is the goal of true education." - Martin Luther King Jr.
Collierville, TN (PRWEB) June 01, 2016
When the American Public Education Foundation launched in early 2015, it was grounded in an "open tent" mindset to partner with a wide array of education advocates working to improve outcomes for our nation's over 50 million public school students.
The APEF operates against the governing belief that efforts to educate, inspire and lead America's next generation of K-12 students are pivotal to improve students' futures and safeguard U.S. global competitiveness. Our service learning projects emphasize character development, civic engagement and global citizenship for all students – regardless of zip code.
Through its emphasis on meaningful advocacy, the APEF is working intently to ensure that every child in America has the chance to #KeepTheDream. "Intrinsic to our nation's grassroots democracy is our national obligation to ensure that every child is empowered to reach his or her full potential through high-quality public education," said American Public Education Foundation president David A. Pickler, J.D.
That is why it is with great pride that the APEF announces that two state school boards associations – the Alabama Association of School Boards (AASB – April 2016), and the Tennessee School Boards Association (TSBA – October 2015) – have formally partnered with the Foundation.
"Our Board of Directors supports AASB membership in APEF because paving the way to student success requires collaborative partnerships," said AASB executive director Sally Smith, J.D. "The foundation, with its impressive portfolio of service learning projects, brings another voice to the forefront as we rally behind our public school students, the future citizens of this nation."
Adds TSBA executive director Tammy Grissom, Ed.D., "Our Board of Directors' vote was unanimous. It made great sense for TSBA to join APEF; APEF is doing incredible work for U.S. public schoolchildren in Tennessee and across the U.S., and we're excited to take part in a growing movement dedicated to advancing outcomes for America's public school students."
As part of ongoing work in support of the Tennessee Digital Learning Project, the APEF is providing logistics support to the TSBA effort to lead the digital evolution in Tennessee schools. The effort pairs a major education technology company with 14 TSBA teacher-led teams to identify open-source content across key subject areas, with the aim to eliminate the use of costly – and often outdated – hard-bound textbooks across Tennessee classrooms. With the majority of work complete, TDLP is expected to launch in summer 2016.
###
About the APEF: The American Public Education Foundation (APEF) complements in-class teaching and learning with service learning projects that promote civic engagement, character development and global citizenship among K-12 public school students. Business leaders, educators, parents – join us to help educate, inspire and lead America's public school students. Learn more at http://www.theapef.org