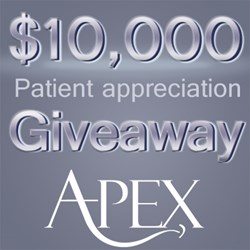 Last year we gave away a car to one of our incredible West Jordan patients. This year, it's going to be $10,000.
West Jordan, Utah (PRWEB) October 10, 2013
Apex Family & Cosmetic Dentistry will give away $10,000 to one of their patients on December 7th, 2013. The event is the culmination of the Patient Appreciation Giveaway, a sweepstakes event open to all of Apex Dental's nearly 10,000 active Utah patients during the period of September 27th - December 4th, 2013.
Beginning September 27th, active patients from any one of Apex Dental's five Utah dental practices can visit their Facebook page at http://www.facebook.com/apexfamilydental and enter the sweepstakes, with no purchase necessary. "We try to hold contests and events as often as possible to let our patients know how much we admire and appreciate them," Joe Maio, D.D.S. and CEO of Apex Dental, said, "last year we gave away a car to one of our incredible West Jordan patients. This year, it's going to be $10,000."
Apex Dental plans to make the event a special one, inviting finalists plus a guest to the proceedings, along with a number of Utah media personalities and celebrities. "At last year's event we gave away plenty of prizes and free treats, and got to meet some great local celebrities," Maio said, "this year we hope to make it an even bigger and better event." In addition to the $10,000 grand prize, runner-up cash prizes will be awarded to the second and third place entrants.
Before December 7th, 50 finalists will be randomly selected from among the entrants and invited to the giveaway event. At the event, two entrants will be randomly selected from the 50 finalists as top-three finalists.
During the contest period, the Apex Dental patient who refers the highest number of new patients to any Apex practice will be automatically awarded a place as a top-three finalist, giving them a one in three chance of winning the $10,000 grand prize. Additionally, Apex Dental plans on awarding patients with additional contest entries when they refer new patients to the practice. For each referral, the patient may earn a single additional entry into the general contestant pool.
As this is a Patient Appreciation sweepstakes, only active Apex Dental patients may participate. Anyone who becomes a new patient between now and the end of the contest may enter. New patients may take advantage of the new patient special, which features a full exam, x-rays, and basic cleaning for $59. Apex Family & Cosmetic Dentistry has practices in Draper, West Jordan, Riverton, Murray, and Stansbury Park.
Apex Dental provides an array of top-tier dental treatment options for its Utah patients, including cosmetic procedures such as dental implants, veneers, bridges, and more. General and family dentistry services are also performed at each of Apex Dental's five Utah locations, including cleanings, fillings, root canals, and extractions.
Apex Dental focuses heavily on utilizing new technology to improve the ways in which dental work is performed. Each of their locations features a DEKA soft-tissue dental laser which is utilized during many procedures, such as implants and extractions. "We always strive to stay on top of the ever-evolving world of dental technology," Dr. John Kwant, D.M.D. and Head of Clinic at Apex Dental, said, "Utilizing the latest and greatest technology assures our patients that they're receiving the finest dental treatment available." The dental laser provides various clinical benefits for the patient, including decreased healing time, increased precision, and less tissue damage during surgical procedures.
For more information about Apex Dental and the $10,000 Patient Appreciation Giveaway, please contact Taylor Weaver by email at taylorw(at)apexfamilydental(dot)com. Please visit http://www.apexfamilydental.com/apex-cash-giveaway for detailed information regarding the contest or to obtain a copy of contest rules.