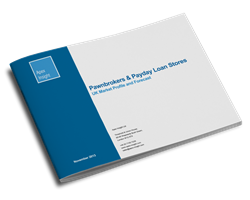 Since the fall in the gold price, the main drivers of market growth have been payday lending and term loans.
London (PRWEB UK) 19 November 2013
This study by Apex Insight finds that the pawnbroking and retail payday lending market has grown rapidly and there are now well over 2000 outlets. It has become relatively concentrated in recent years as seven large chains (Albemarle & Bond, Cash Converters, Cash Generator, Cheque Centre, H & T, The Money Shop and Ramsdens) and some smaller players have each rolled out their store networks. Most of these main operators have roots in one of the service areas but there has been significant convergence with most now offering a broad mix.
Market growth was driven by a combination of several favourable factors. Firstly, there was a significant increase in the demand for sub-prime consumer credit services as a result of the economic downturn as levels of unemployment and underemployment – part time workers who wish to work full time – have increased. This coincided with a significant reduction in the appetite of the mainstream banks for taking on the risks associated with serving such customers. Furthermore, the regulatory environment in the high-cost credit market has been more favourable in the UK than elsewhere in Western Europe and North America. There was also a sustained rise in the gold price in the decade leading up to 2011-12, supporting the growth of gold buying as a business stream and providing profits to fund store roll-out. Finally, the decline of the high street as a shopping destination in the face of competition from the internet has led to an increase in the supply of suitable sites.
In the last year, a fall in the gold price has led to a significant reduction in the levels of gold buying. Most analysts expect the price to fall further in 2014, and our forecast assumes that gold buying continues to decrease as a result.
The main drivers of market growth are now payday lending and term loans with most leading chains launching new products and increasing their focus on these areas. However, there is potential regulatory risk in this area, both from the incoming regulator, the FCA, which has promised a robust approach to enforcement of regulations, and the Competition Commission, which is also currently reviewing the area. Traditional pawnbroking appears set to continue to grow at a more modest rate but with significantly less regulatory risk.
The study's forecast, which analyses trends in market drivers and incorporates findings from interviews those in the industry, sets out how Apex Insight expects the industry to develop. It addresses key questions such as:

Was pawnbroking driven by a gold bubble or is there underlying growth in the market?
How is the segmentation of industry revenue between different service lines, such as pawnbroking, payday / term lending, gold buying and retail, likely to change in in the future?
Is 'posh pawn' now an important area?
Does comparison with the US market suggest potential for further growth?
Should Albemarle & Bond, now struggling with its own debt burden, have been able to anticipate a slowing in the market?
Further information on the report: "Pawnbrokers & Payday Loan Stores: UK Market Profile and Forecasts 2013", is available from apex-insight.com/consumer-credit.
About Apex Insight
Apex Insight is an independent provider of research, analysis and consulting services covering consumer credit and other markets in the UK and Europe. In addition to Pawnbrokers and Payday Loan Stores it has recently researched and published market reports covering sectors including Peer-to-Peer Lending, Debt Purchase and Collection, Home Credit, Rent-to-Buy Retail, Consumer Debt Solutions and Vehicle Leasing.
Companies mentioned in the report
Instant Cash Loans
The Money Shop
Dollar Financial Corporation
Cash Generator
Cheque Centres
CNG Holdings
Axcess Financial
H & T Group
Albemarle and Bond
Cash Converters
Ramsdens Financial
Borro
Oakam
SRC Transatlantic Limited
Speedy Cash