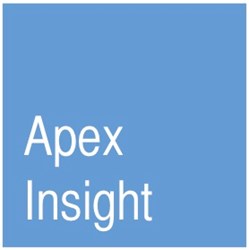 For small business loans, rather than competing purely on rates, peer-to-peer lenders differentiate themselves from the banks by availability of funds and speed of applications.
London (PRWEB UK) 30 September 2013
This new study by Apex Insight explores peer-to-peer lending. There are now a number of established operators. Most, such as the UK market leader, Zopa and RateSetter –as well as leading international operators such as Lending Club and Prosper in the US and Auxmoney and Pret d'Union in Europe – focus on offering loans to consumers. But, there are also several other UK operators, such as FundingCircle, FundingKnights and ThinCats, which focus on small businesses.
The sector is the latest example of a financial service where new entrants have been able to be very competitive by introducing a business model which has significant cost advantages compared to the traditional models of the banks. Industry estimates are that the operating costs of a peer-to-peer lender are less than half those of a traditional bank's personal loans operation – even after including the greater amount of marketing required to evangelise the concept.
As would be expected, the platforms use these cost advantages to form the basis of their appeal. They attract savers primarily by offering better rates to savers than are obtainable from banks which, in the current savings environment is not so challenging. They also attract consumers wishing to borrow from them by offering very competitive rates.
However, the evidence is that, in the small business loan arena things are different and that, rather than purely rates, the key factors used by the peer-to-peer lenders to differentiate themselves from the banks are availability of funds and speed of application process.
The study includes an analysis of the current market situation. It also addresses the important questions for the industry, such as:

How is the industry likely to develop as it matures?
What is likely to happen once the industry is regulated by the FCA
How might the banks respond to its growth and what are the implications?
Are forecasts of share of lending which have recently been quoted realistic?
The full study: Peer-to-Peer Lending: Market Insight Report 2013, is based on interviews with those in the industry as well as extensive analysis of available data on the main operators, market drivers and other relevant trends. It contains comparisons of the business models of leading operators and our views on the outlook for the market and is available from apex-insight.com/research.
About Apex Insight
Apex Insight is an independent provider of research, analysis and consulting services covering business services markets in the UK and Europe. In addition to Peer-to-peer lending, it has recently published market reports covering sectors including Debt Purchase and Debt Collection, Consuemr Debt Solutions, Internet Payday Lending, Pawnbroking, Home Credit and Rent-to-Buy Retail.
Companies mentioned in the report
Assetz Capital
Auxmoney
Barclays
Encash (formerly Yes-Secure)
Folk2Folk
Funding Circle
FundingKnight
HSBC
Lending Club
Lloyds Banking Group
Mayfair Bridging
Pret d'Union
Prosper
RateSetter
rebuildingsociety.com
Santander
Squirrl
ThinCats
YouAngel
Zopa