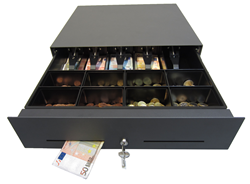 As a global supplier of cash drawers, it's important that we develop products that serve markets worldwide.
Minneapolis, MN (PRWEB) March 07, 2014
APG Cash Drawer, LLC, worldwide manufacturer of mobile cash drawer solutions and other POS related products, is pleased to again be exhibiting at the RBTE Expo 2014. The trade show will take place at the Earls Court Convention Center in London, UK on March 11th and 12th. At the show, APG will be exhibiting their new purpose built European products along with the latest Bluetooth and wireless cash drawer solutions at booth #418.
Just released to the marketplace, APG's BluePRO Bluetooth interface for cash drawers enables secure, mobile transactions. The Bluetooth interface is Apple™ MFi Certified and is compatible with iOS, Android, and Windows operating system powered devices. "Cash remains a viable form of tender," stated Stephen Bergeron, VP of Global Marketing. "Retailers are installing mPOS solutions that can improve a consumers shopping experience. Our Bluetooth and wireless enabled cash drawers facilitate mobile environments and are cutting edge in the retail industry."
"As a global supplier of cash drawers, it's important that we develop products that serve markets worldwide," stated John Meilahn, VP of Global Sales. APG is launching two new families of products designed to meet the needs of the European markets. We are launching two new Flip-Top products and two high capacity lay flat drawers designed to support heavy coin loads for tough European retail environments," stated Meilahn. "With the recent addition of our new European warehouse, located in Dusseldorf, Germany, we can fulfill and service customers with these new products quickly across EMEA."
Schedule a meeting to find out more about APG's new European products or mobile cash drawer solutions or visit us at booth #418 during the show.
About APG Cash Drawer, LLC
APG manufacturers highly durable and dependable cash drawers. APG has built a reputation as the supplier of choice for retail, hospitality and mobile cash drawer solutions for thousands of customers throughout the world. To learn more about APG's products, visit http://www.cashdrawer.com or call 763-571-5000. Follow us on Twitter at @apgcashdrawer and on Facebook.