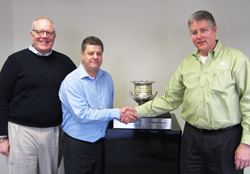 It's essential that we increase our global support as we expand our presence worldwide.
Minneapolis, MN (PRWEB) May 06, 2014
APG Cash Drawer, LLC is pleased to welcome the newest addition to their team, Rick Paull, Product & Business Development Manager. Based in England, Rick will be responsible for developing and supporting customer activities in the United Kingdom.
"It's essential that we increase our global support as we expand our presence worldwide," stated Mark Olson, President of APG Cash Drawer. "There are opportunities to participate in new markets and Rick will enhance our ability to support our new and existing customers. Rick is well versed in POS and is respected by many within our industry. We are honored to have him on our team," said Olson.
"We're introducing six, new purpose-built European products this year," stated Stephen Bergeron, V.P. of Global Marketing. "In his role as Product and Business Development Manager, Rick will be responsible for introducing APG's latest cash drawer products, designed specifically for Europe and the UK marketplace. Rick will be working closely with APG's established channel and OEM partners introducing APG and its products and services to the UK end user community. He will assist them in introducing our cash drawer technologies to their customers and to help them grow their businesses."
An industry veteran, Rick has 30 years of experience in Retail IT which includes 24 years at Fujitsu as Businesses Development Manager. Rick and his wife live in Berkshire, England and have two grown up children. Rick is an avid golfer and enjoys traveling internationally. Please help welcoming Rick on board: RPaull(at)apgcd(dot)com.
About APG Cash Drawer, LLC
APG manufacturers highly durable and dependable cash drawers. APG has built a reputation as the supplier of choice for retail, hospitality and mobile cash drawer solutions for thousands of customers throughout the world. To learn more about APG's products, visit http://www.cashdrawer.com or call 763-571-5000. Follow us on Twitter at @apgcashdrawer and on Facebook.