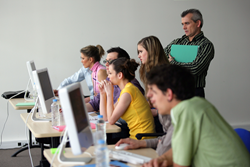 …students can evolve into innovative entrepreneurs and technically savvy individuals whose thoughts can be geared towards the next generation of computing devices – smartphones and tablets.
Princeton, NJ (PRWEB) February 27, 2014
WFT Cloud - India, a division of Wharfedale Technologies (WFT), today announced the successful completion of its pilot training program on "The Future of Computing on Mobile Platforms" for an International School located in Chennai, India. The Pilot Training Program was aimed at educating students on the need for mobility devices and in cultivating their thoughts towards developing applications for mobile devices.
Pioneering in the cloud platform, the management team in WFT Cloud decided to focus on schools and colleges towards imparting their knowledge gained over the years. Following this thought process, a couple of schools were identified wherein, WFT Cloud could run a pilot training program to test the students willingness to learn about mobile platforms and app developments on such platforms. As an outcome of this process, a renowned International School located in Chennai, India was chosen by WFT Cloud to run its pilot training program on "Computing on Mobile Platforms".
The rapidly expanding technology of Wireless Communication, Cellular Networks, and Satellite Communication services will make information accessible anywhere at any point in time. Most mobile computers will be equipped with a wireless connection to the fixed part of the network. The resulting computing environment, often referred to as mobile or nomadic computing, no longer requires users to maintain a fixed known position in the network and thereby allows almost unrestricted mobility. Modern day communication has facilitated transmission of text, data, voice, video, or multimedia services to mobile devices with freedom of time and with no limitations on location.
With such rapid developments happening in the field of mobile communications and with the advent of sophisticated mobile computing devices like smartphones, kids, even at a young age, are inevitably exposed to such advanced technology. The management team within WFT Cloud's Educational Division arrived upon a collective decision that, if these kids are molded and directed in the right path, they can grow up to be innovative entrepreneurs and technically savvy individuals whose thoughts can be geared towards the next generation of computing devices – smartphones and tablets. The pilot training program was designed to educate students on the following key points:
1. The need for mobility – laptops, smartphones, etc.
2. Wireless telephony and its transformation
3. Wireless internet and its impact on smart devices
4. Mobile Hardware/OS
5. Understanding the hardware differences between tablets, mobiles and laptops
6. Key terms and concepts used in mobile devices
7. Mobile Operating Systems
Manufacturer-built proprietary operating systems
a) Apple iOS
b) RIM BlackBerry OS
c) HP WebOS
Third party proprietary operating systems
a) Microsoft Windows Phone 7
b) Microsoft Windows Mobile
Free & open source operating systems
a) Android
b) MeeGo
c) Symbian
8. Piracy and software thefts
Trained professionals from WFT Cloud were deputed and assigned the job of training school students in learning the aforementioned topics along with practical classes wherein mobile app development was introduced.
About Wharfedale Technologies Inc.
Founded in 2000, Wharfedale Technologies, Inc. (WFT) is a leader in SAP infrastructure solutions. As a highly skilled SAP infrastructure consulting firm, WFT works closely with vendors, jointly delivering solutions to some of the largest clients in the financial, pharmaceutical, manufacturing and entertainment industries, as well as key government agencies. As an SAP certified provider of cloud services, Wharfedale also offers SAP solutions around - high availability, disaster recovery, advanced sizing for virtualization, back up/recovery Integration, systems refresh automation and landscape optimization.
For more information on Wharfedale and WFT Cloud services, please visit http://www.wftcloud.com or call us at (888) 533-3113.
SAP® and all SAP logos are trademarks or registered trademarks of SAP® AG in Germany and in several other countries. EMC® is a registered trademark of EMC Corporation in the United States and other countries. All other product and service names mentioned are the trademarks of their respective companies.