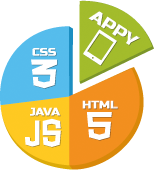 We are absolutely delighted to be rated as one of the Top 10 App Makers of 2014 and be internationally recognized by Business News Daily. For us this confirms that our Appy Pie's app maker Services are the right one for small and medium businesses
New York (PRWEB) January 09, 2014
Appy Pie is the fastest growing DIY (Do It Yourself) cloud based app builder in the world. The company has been gaining massive popularity because of its easy drag and drop feature that lets people with zero coding knowledge create useful applications for smartphone devices running on Android, iOS, BlackBerry and Windows 8. This is one of the major reasons that made Business News Daily name Appy Pie as the #1 App builder of 2014.
"Appy Pie's apps offer business users a complete set of features to stay connected with customers. With the Appy Pie App Maker, users can add push notifications, social media and blog integration, photo galleries, and sharing capabilities. Several business tools are also available, such as an appointment scheduler; restaurant tools like OpenTable, GrubHub and Menu builder; Passbook Coupons; GPS tracking for strategic location-based marketing; and Contact Features, which includes one-touch calling, QR code and website integration," said a spokesperson.
Users can create their app in few minutes, and they will receive a HTML5 based hybrid app that works with Android, iPhone, iPad, Windows Phone and Blackberry and there is no need of installing or downloading any additional package. Everything required to create an app is available within Appy Pie's app development tool-kit, and users can make their app using drag and drop facility.
"We are absolutely delighted to be rated as one of the Top 10 App Makers of 2014 and be internationally recognized by Business News Daily. For us this confirms that our Appy Pie's app maker services are the right one for small and medium businesses," said Abhinav Girdhar, CEO at Appy Pie Inc.
About Appy Pie:
Appy Pie is trademark of Appy Pie Inc. Appy Pie is the world's #1 cloud based Mobile App maker Software that allows everyone to create free mobile apps. Appy Pie is Custom Mobile Application Development News software that allows anyone with no technical knowledge to create advanced applications for mobiles and smart-phones. Nothing to download or install, no programming required, just drag & drop. Appy Pie was launched in first quarter of year 2013 & at this point more than 5000 apps are produced each month using the Service.
For further details, visit http://www.appypie.com/.