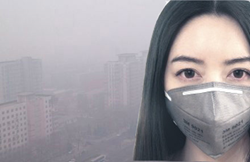 What we sent out is not just those 100,000 masks, it is more like a message to raise attention from society of pollution issue. Meanwhile, defeating bad haze should not be the only responsibility on MoWeather, but to each of us!"-- Li Jin, CEO MoWeather
Beijing, China (PRWEB) March 26, 2014
Heavy smog returned to Beijing after three weeks of blue sky and sunshine. Pictures on Google show that smog has returned. In February 2014, MoWeather launched a public benefit activity with over 100,000 masks being released in Beijing, China. Measures such as those undertaken by MoWeather are due to the severe air pollution issue looming within China and the recent smog. This has led civil organizations and enterprises to begin sponsoring voluntary activities to protect people's health to promote a green future.
Thick fog and haze shrouded Central and Northern parts of China in the last few weeks starting in January, with Hebei and Henan provinces among the most polluted areas, monitoring data showed. According to the Global Burden of Disease Study, a frightening 3.2 million people died from air pollution in 2010—2.1 million were from Asia. Meanwhile, the number of pediatric patients with pneumonia dramatically increased in China. "Haze weather is more dangerous to health than cigarettes," said Zhong Nashan—the Director of the Chinese Academy of Engineering and Guangzhou Institute of Respiratory Diseases.
PM 2.5 refers to particles less than 2.5 microns, which might enter human bodies deep down into lung or blood circulation to destroy the immune system. So PM 2.5 remains a bad influence to both human health and the environment. It refers to particulate matter of a mixture of solid particles and liquid droplets found in the air. It is 1/30 the size of a human hair and is so minute that several thousands of them can inflict severe damage. Sources of PM 2.5 include fuel combustion from automobiles, power plants, wood burning, industrial processes, and diesel powered vehicles such as buses and trucks. PM 2.5 is also formed in the atmosphere when gases such as sulphur dioxide, nitrogen oxides, and volatile organic compounds that are also products of fuel combustion are transformed in the air by chemical reactions.
The Chinese Government recently introduced the monitoring of PM 2.5 (particles less than 2.5 microns) concept. $500 billion has also been allocated to protect its people from haze and environmental issues regarding health. However, while the Chinese Government seems to be somewhat inactive in dealing with the health issues regarding haze, local government and some funded organizations have clearly taken some strong steps to protect the health of the people in China.
Researchers link PM 2.5 to asthma, bronchitis, acute and chronic respiratory symptoms such as shortness of breath, painful breathing, and premature deaths. It is also cited as being responsible for the premature deaths of the elderly whose immune systems are weaker due to age or other health problems such as cardiopulmonary diseases.
Children are more susceptible to the health risks of PM 2.5 because their immune and respiratory systems are still developing. While the average adult breathes 13,000 liters of air daily, children breathe up to 50 percent more air per pound of body weight than adults. Consequently both acute and chronic respiratory problems such as asthma in children are believed to be caused by PM 2.5 and forty percent of all the cited asthma cases are children who account for 25% of the population.
MoWeather has played its part in protecting the lives of the people in the capital against haze and thick fog by freely distributing 100,000 advanced face masks from Feb 2014. This has successfully helped the people of Beijing protect their health against the strong haze and thick fog environment. Moreover, aiming for maximally secure health of people from smog, the MoWeather team has set up plenty of stalls at different places to hand out free masks in Beijing. This has simultaneously helped the people of the capital protect their health against the bad weather and created a sense of awareness amongst the people to take care of their health. "It is really an appreciable step started by the MoWeather team and I appreciate them on their self-initiative for creating a sense of awareness amongst our people regarding health protection," said a Beijing resident.
Although with updated weather forecast, people are expecting the bad haze to be off by this weekend, pollution crises remains top issue in China. It requires not only support from government side, but also call to all the enterprises in China to raise awareness of Corporation Social Responsibility (CSR). May MoWeather be a good industrial model today. Let's look forward a greener future to China.
About MoWeather: The MoWeather Team -- a young, sustainable and innovative tech startup that specializes in providing a high-acclaimed weather forecast mobile app. The team is headquartered in Beijing, China and has an office in Santa Clara, California.