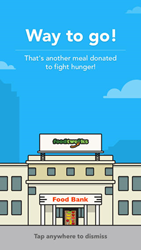 Washington, DC (PRWEB) September 17, 2014
"FoodTweeks" was featured on NewsWatch as part of its monthly AppWatch, which takes a look at the latest and coolest apps on the iOS, Android, and Windows markets. Andrew Tropeano, a host of NewsWatch and a mobile technology expert, conducted the app review and shared with viewers how it helps improve and maintain weight by showing simple changes to common foods to cut out calories.
Most people are constantly fighting a battle between the foods they eat and managing their weight. FoodTweeks is a free app for iOS and Android devices that helps improve and maintain a user's weight by showing simple changes to common food to cut out calories. For each cut calorie, the app will donate its equivalent to a food bank in the area. The app not only helps users, but also helps those in need.
There are simple and easy tweeks to everything we eat, a perfect example being a hamburger. The user opens the app, chooses what they're eating, and the app will offer advice for cutting calories. Examples include "skip the mayo" and "remove the top bun". Users then choose the tweek and give it a try. When they do, food is donated. If a user shares the tweek on Facebook or Twitter, they'll double or triple the donation. FoodTweeks has over 12,000 food items in their database from restaurants, supermarkets, and home cooked meals. They also have over 40,000 tweeks and counting.
For an easy solution to weight management and to help people in need, head to the appstore and search "FoodTweeks" today or visit https://itunes.apple.com/us/app/foodtweeks/id622737438?mt=8.
About NewsWatch
NewsWatch is a weekly 30-minute consumer oriented television show that airs on the History Channel, FYI Network, and ION Network. NewsWatch regularly features top technology products and services, mobile applications for iOS, Android, and Windows devices, unique and beautiful travel destinations around the world, health and medical tips, and entertainment interviews on the show. NewsWatch airs on the History Channel at 6:00 – 6:30 AM ET/PT and on the FYI Network from 7:00 – 7:30 AM ET.
NewsWatch is located in the greater Washington, DC area and has been on air for over 25 years. For more information or to watch the most recent episode, visit http://newswatchtv.com.